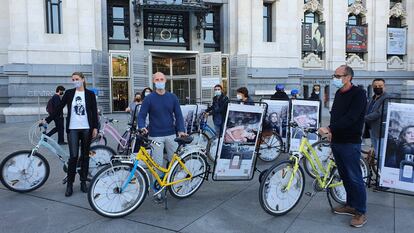 The eight socialist councilors of the Madrid City Council have cycled through the center of the capital this morning. Upon arriving at the Palacio de Cibeles, they parked their bikes and addressed the media that were summoned. "We want to present Almeida water, the aroma of your city ", said the spokesperson, Mar Espinar. "With this campaign we want to denounce that Madrid is dirty, clogged and with a noise problem. Since Almeida does not want to approach the neighbors, we want the neighbors to see that we transfer their visibility ".
The campaign cost 26,000 euros, according to party sources. The Socialists have printed dozens of posters that, from this Thursday until next Sunday, will be seen by the 21 districts of the city to denounce the state of the city. They will not be seen in the bus shelters because the companies with which the PSOE has contacted have not wanted to. "We have done this because it is the language that Almeida understands, which is that of chascarrillo," said Espinar during the presentation.
The campaign is similar to that of a luxury fragrance. In the two advertisements that are known so far, two models appear, both men and women. In the first one, a young blonde looks at the camera lens with a traffic jam behind: "Almeida water, aroma of perpetual traffic jam ". On the socialist website the announcement is explained in more detail: "Madrid travels to the past in terms of mobility. As Europe moves towards a greener horizon, Almeida is determined that the streets of Madrid breathe the smoke of traffic jams. The regressive new mobility ordinance, which came into force last September, has opened the door to more than 45,000 more cars in the city center. Pollution kills 2,000 men and women from Madrid a year ".
In the second ad, another young model is photographed asleep on the ground of a street. "Eau de Almeida, uncollected garbage perfume." The website also explains the reasons: "Full containers, green areas full of waste, overflowing bins… Dirt on the streets of Madrid increases day by day. The disastrous comprehensive contracts of 2013 are still in force, with few personnel and with obsolete machinery. The Almeida Government is unable to implement new contracts that give Madrid the level of cleanliness it deserves. The situation has caused a record level of dirt, especially in the southern neighborhoods. Even when?". In the coming days the campaign will be more active on social networks.
Subscribe here to our daily newsletter about Madrid.

elpais.com