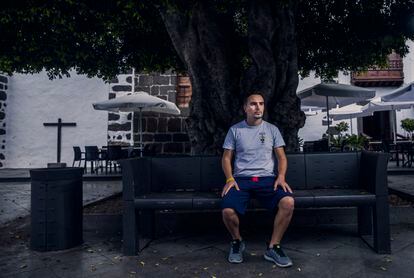 "My name is Aníbal Díaz, I am 25 years old, I lived in Las Manchas, very close to the La Palma volcano, and my parents and I have lost everything. The afternoon before Sunday, in a meeting, we were told that it would explode in Jedey, several kilometers away. But, just in case, my mother, my father and I prepare a briefcase with documents and some clothes. We didn't think we would have to use it.
That morning, I walked through the mountains and, at one point, I felt a giant balloon pass under my feet. I saw how the car, in the distance, moved. It seemed like there were waves under the ground. And the earthquakes began. I know there were five every minute because I sent audios through my mobile to the friends I was counting on.
At quarter past three it exploded, very close to where I had been walking in the morning, just over a kilometer from my house. The power went out. The garage door stopped working. We took the briefcase and the dogs. A civil guard came and told us to please hurry up. But the problem was my cat, who did not appear. He was very scared and fled. I asked the Civil Guard for a minute. In the end, with my parents in the car, I found him, put him inside and we went where they told us, to the soccer field in El Paso.
From there we went to my grandparents' apartment, in Los Llanos. We did not know what was wrong with the house. Nobody informed us. There were no images on televisions because they paid little attention to that lava tongue, smaller than Todoque's. But a farmer from the area, a friend of ours, with a drone that he had, made videos and passed them on to the neighbors. So we knew we were going to lose the house. Yesterday I was able to go thanks to some councilors. I took the computer, clothes for myself and my parents, the photos of the family, I put everything in some bags, I locked the door and I went back. It took me less than 15 minutes. There was no more time. Not even the car could go up the hill because it was slippery due to the amount of ash that accumulated the access. Today I have seen that the lava is already next to my house, about to tear it down.
I am a forest firefighter. On Monday, the day after the volcano, I went to work. But then I couldn't.
I am a forest firefighter. On Monday, the day after the volcano, I went to work. But then I couldn't. I have not been able to. I have been discharged. I die of sadness. I'm seeing the psychologists who send us. My father works in construction, but the company remains in the area they have evicted. My mother is a banana packer. And the same thing happens to him. They don't know if they will get their job back. My father is devastated. And my mother, even worse. My brother came from Barcelona as soon as he found out. I only have one sweater. My father a jacket. My mother has nothing, not even a jacket. I didn't take it from him when I went to the house yesterday, and that's why he doesn't have one. I think this afternoon we will go to the soccer field in El Paso, where they give clothes and food. We do not like to order, we have never asked for anything, but we have no other choice. We have everything up.
We have gone to the bank and the director of the branch told my father that the insurance does not cover volcanoes. He will not charge us, he says, the amount of the mortgage for a year, but he will charge the interest. I have asked my mother how much we still have to pay on the mortgage, but now she can't remember. My father replied to the bank that if the furniture, the refrigerator, the television are not insured either … And neither. So I don't know what the insurance is for. I do not know.
And if I speak here, it is not only for me, but for all our neighbors, because almost everyone is the same as us. I know them all. I always lived there, in that house. I was born there. My father built it. We had land, and animals: geese, chickens, and ducks. Before we left we left the door open for them to escape. Go know where they are. I remember one thing: my bed. I bought it a month ago, and I was very happy because it was very comfortable and I really liked it. It makes me very angry because it stayed there …
Help has to come. But really, I know what this is about, that I am a forest firefighter and I know what happens after the fires with the aid that is promised. May the aid arrive, and may it arrive soon, please, do not complain, let it be done, that this is serious, that we do not know what to do, that this is not a show. Because there are even people who are worse off than us, because we have my grandparents' apartment, we can get in there even though it is small for everyone, but others have nowhere to go, I know them.
We have called Social Services of the City Council and they have told us that they will call us back. But so far no one has called. Today, in the morning, we have been in La Laguna with the King and the Queen. My mother has explained what happened to us. They have assured us that the whole of Spain is with us and that they will not forget our case. I hope so.
My parents don't want to go back. They want to go to another place, maybe to another island, but never to Las Manchas, never to where we lived. Not there. They say they are going to rent. Whatever, but rent, they will never buy a house again ".

elpais.com