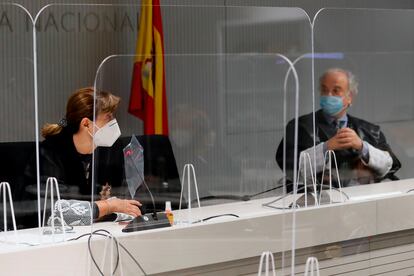 The renewal of the Constitutional Court will have immediate effects on the National Court. The agreement reached between the Government and the PP implies the appointment of two judges of the Criminal Chamber —Concepción Espejel and Ramón Sáez— to occupy a position in the court of guarantees. The departure of both will mean in the short term the reduction of the number of available personnel to form the courts in charge of prosecuting the cases in an institution that has been denouncing for months the "serious situation" that it is going through due to the large workload it accumulates and the deficit of magistrates that it suffers.
In the first place, according to sources from the National Court, it will be vacant sine die the presidency of the Criminal Chamber, a position held by Espejel and for which no one can be appointed until the General Council of the Judiciary (CGPJ) is renewed, pending since 2018. Meanwhile, Judge Alfonso Guevara will assume that position in functions to be the magistrate with greater seniority. For the gap of Sáez, it will be possible to choose a substitute, but first it will be necessary to complete the entire process that this type of appointment entails.
The departure of Espejel and Sáez will also leave the First Section of the Criminal Chamber, to which both belong, with only three magistrates. According to court sources, this deficit will be covered with the transfer of magistrates assigned to reinforce one of the other three sections that make up the body. And since Espejel also held the presidency of this First Section – in charge, for example, of reviewing all the appeals filed against the decisions of the Penitentiary Surveillance Court, including the permits for ETA members – Judge Francisco Javier Vieira will now take on that job. .
In its last report, the National Court denounced that "the complexity, volume and duration of the prosecution of the cases [abordadas en este tribunal] they show the insufficiency of the staff to face the workload that weighs on the Criminal Chamber ", proposing the appointment of three more regular judges while those of reinforcement are kept in parallel.
According to several reports prepared by Espejel, this body is going through a "serious situation" that has been accentuated by the coronavirus pandemic – which forced the suspension of trials and complicated the organization of the most numerous. In addition, the still president of the Chamber predicts an increase in work, so she has just asked the General Council of the Judiciary (CGPJ) to renew the five judges on commission.
During this time, the Second Section has been strengthened urgently after its president alerted on September 17 that there were only two magistrates in "active duty" and that the "paralysis" of the body could be reached, when the rest of medical leave, which made "impossible the signing and deliberation of matters as well as the holding of hearings of trials already indicated."

elpais.com