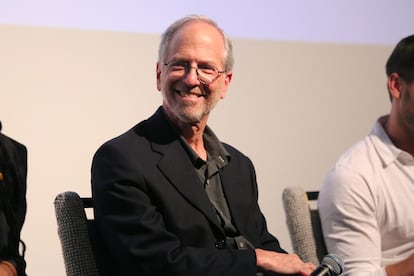 Zip code is an indicator of health. In New York, as line 6 of the subway moves north of Manhattan, life expectancy drops by one year every minute. It's impossible to see on the map of the transportation system, but at Bellevue Hospital, teeming with chronically ill people as a result of impoverished lives and limited access to nutritious food, physician Eric Manheimer soon noticed.
Manheimer was director for 14 years of Bellevue, New York's largest public hospital. His experience, which he captured in notebooks every night and then turned into the book Twelve Patients: Life and Death at Bellevue Hospital that inspired the series New Amsterdam, showed him that behind every chronic disease patient there is a history of inequality.
"The postal code in which one lives, more than any other factor, is responsible for premature deaths," he said this Wednesday in a talk with the Undersecretary of Health, Hugo López-Gatell, at the International Book Fair of the Zocalo of Mexico City. For the doctor, it is no coincidence that in neighborhoods where there are more unemployed, green areas are scarce and violence is more brutal, the health status of its inhabitants is worse. He saw it in the years when he walked the corridors of the hospital listening to the sick talk about their life before being on a stretcher: what they ate, what they did in their free time – they could afford to have free time ? – what education had they received. Then the covid-19 pandemic confirmed it: where there were worse living conditions, more deaths were registered. Again it was the result of a broken system that holds the individual responsible for what they eat and lead an unhealthy lifestyle, but at the same time denies them access to what they are supposed to do to be healthy.
Manheimer gives as an example the story of Marta, an obese and diabetic hospital cleaner, who carried the story of her family in her sick body. She had not been the first with that diagnosis, the cause of which was none other than poor diet. "Is it the responsibility of Martha of this world who make decisions about how to eat? Nobody forces them to enter a fast food restaurant, but what about the multimillion dollar industry that produces colossal amounts of food and fights for the attention of all consumers in the world? ", The doctor asks in part of his book. . Marta, of Latino origin, is a reflection of what millions of people live harassed by the advertising of large industries and cornered by difficult access to nutritious food.
"The 'cocacolization' in Mexico has swallowed up the country. Large conglomerates have created a modern pandemic that begins in early childhood, Marta saw these effects in her life, "said the former director of Bellevue, for whom the medical industry has ignored social factors as the key to making early and preventive diagnoses. He tried to turn the system around, forget the digitized medical records and – as seen in the series that portrays his life – go back to basics, to human contact.
Doctors, Manheimer admits, do not have a duty to fix society's problems, but it is crucial for any care to know what their patients have been exposed to, what their lives have been like. "The day I set foot in the hospital I put on a white coat and left the office to walk the corridors." He remembers the first story he wrote in his notebook, which later were several until he filled a shelf and decided to write the book, published in Spanish by the Fondo de Cultura Económica. "I found a patient of those who classify as a 'homeless', middle-aged and who was looking at us anxiously to know his diagnosis. Before talking about her illness, I looked at the name on the plastic bracelet that had been put on her when she was admitted. His last name was Naipaul, I asked him if he was a family from the Nobel Prize for Literature VS Naipaul. Fate had led the writer's cousin to financial ruin and the loss of his family. It was him and there he was, with pneumonia, sick and homeless, "says the doctor, who wrote the first page of his diaries that same night.
"That man represented millions of people. Each homeless had a long and deep history. Little by little I was learning about true suffering, about what they do not teach in the university, I also unlearned many things to see clearly how thousands of patients arrive at a clinic pushed by social, economic and political forces that have profound effects on health. . Making these risk factors visible became my personal project ", says the man in clear Spanish, as would be expected of someone who decided to leave his office and go room by room to the largest hospital in New York for 14 years and get to know —Especially listening to— migrant patients who did not speak English, nurses, or anyone in the hallways engaging in unusual conversations in a hospital.
Subscribe here to newsletter of EL PAÍS México and receive all the informative keys of the current situation of this country

elpais.com