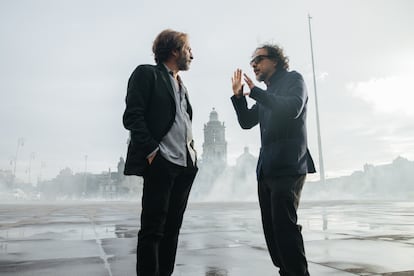 After months of secrecy and speculation about Alejandro González Iñárritu's new project, its producer has solved the mystery. The seventh film of the celebrated Mexican filmmaker, winner of four Oscars, will be a comedy, it will be called Bard and it is entirely shot in the capital of your country and performed by Mexican actors. Iñárritu thus returns to the origin, to his city, where he began his successful career 21 years ago with Love Dogs, an already cult film that catapulted the so-called new Mexican cinema to the international catwalks.
The first news broke in March, when the director and his team were seen filming in the central streets of Mexico City. The information was then very little due to the iron will to keep the details secret until the official presentation. A secrecy that fueled the rumors: that it was a film with a political focus based on the 80s, that very few people have read the entire script and that Iñárritu asked his team to sign a confidentiality contract.
The information revealed this Thursday describes Bard, which also has the subtitle (or False Chronicle of a Few Truths), as "a nostalgic comedy in the framework of an epic journey. A chronicle of uncertainties where the protagonist, a renowned Mexican journalist and documentary maker, returns to his country facing his identity, his family affections, the absurdity of his memories, as well as the past and new reality of his country ".
With Bard, Iñárritu returns to Mexico and comedy accompanied by old acquaintances. The Argentine Nicolás Giacobone is behind a script written in four hands together with Iñárritu himself. A formula that has already been explored in Biutiful (2010), the dark drama starring Javier Bardem, and Birdman (2015), the first comedy by the Mexican director that earned him his first Oscars: best film, director and original screenplay.
The project will also feature Daniel Jiménez Cacho and Griselda Siciliani in the main roles. Tita Lombardo as producer, who was part of the team of Dog loves. And the art director Eugenio Caballero, winner of an Oscar for his work on the Pan's Labyrinth of Guillermo del Toro, and part of the team of Roma, the award-winning film by Alfonso Cuarón that also marked the return of the Mexican filmmaker to his country after his journey directing in the United States.
The three Mexican directors have taken Hollywood by storm and have been taking the top spots at international awards for almost a decade. A promotion that began in 2000 with Dog loves, a harsh portrait of Mexico City away from the cliché of melodrama that accompanied classic Mexican cinema and told through the fragmentary technique of time jumps and other narrative puzzles. A format half billed with the screenwriter Guillermo Arriaga and had its prolongation repeatedly in 21 grams (2003) and Babel (2006) before the separation of the artistic marriage between the two.
Subscribe here to newsletter of EL PAÍS México and receive all the informative keys of the current situation of this country

elpais.com