Last summer, Juan, an 11-year-old boy, son of Frank Buschmann's neighbor, had a problem: his turtle had grown and the cabin he slept in had become too small for him. Frank left the chair he was making and a couple of days later offered the little boy a new custom shelter for his pet. What a satisfaction to see a child happy. If the anecdote illustrates something, it is the closeness that Buschmann has with the neighbors of Corcubión (A Coruña), a municipality in which he has lived for five years, and at the same time his voluntary distance from the world. "Living in a metropolis, in a market economy, means being subject to high fixed costs, stress, competitiveness … They force you to manage life instead of living it," he says. Also, let one of your main influences emerge in the conversation, those shakers, Utopian community of the eighteenth and nineteenth centuries, whose objective was to recreate heaven on earth: artisans who loved machines because they gave them time (not money) and who planted extra vegetables in their gardens so that those in need could supply themselves. Buschmann remembers what Tomas Merton said about them: "That a chair Shaker its peculiarity is a sense of divinity is due to the fact that whoever made it was capable of believing that an angel could come and sit on it ".
Frank Buschmann is not about sitting. His attitude represents very well the symbiosis between craftsman and artist. He was born in South Africa in 1969. He has German roots, where he took his first steps with wood. He trained as an industrial designer and as a cabinetmaker. He was a professor at the prestigious design school in Eindhoven (Netherlands), of which he had been a student. He curated exhibitions and for seven years he co-directed, together with María Bella, under the supervision of Juan Carrete, Intermediae (in Matadero), a pioneering public contemporary art institution in coupling citizen participation and artistic fabric dependent on the Arts Area of ​​the Madrid City Council. He made many turns until he reached Corcubión and changed his life: a cabinetmaker on the Costa da Morte, where he has integrated wonderfully, to the point that two of his works have received the 2019 Galicia Crafts Award and the Antonio Fraguas Award from the Provincial Council of A Coruña 2020.
That Buschmann has his own language can be seen in his furniture and in his way of understanding the trade. Regarding the characteristics of artisanal production, he says: "The artisan learns and evolves in his trade by observing, imitating and repeating. There are three main tasks – measuring, marking and cutting – that are repeated throughout the production process ". Buschmann's work is an exploration of integrity. "To carry it out, I use the object, its production process and its relationship with life and the world as a means. I consider most of my pieces prototypes. They are reflections of moments in this exploration. Almost none are born on paper. My way of conceiving the form is more similar to that of a sculptor. I make 3D drawings with excess material, experimenting with proportions of details or ideas of connections ".
When talking about materials, the importance of wood cannot be ignored, wood as the beginning and end. The wood that looks for functionality and the beauty of lines in the home. For a reason, Hans J. Wegner, a Danish architect and designer, claimed that a chair is not really finished until someone sits on it. "Wood, due to its physical characteristics, its beginning, its way of growing and its continuous transformations over time, demands a holistic approach to working with it. If its internal tensions or its dynamics related to the context are not respected, the final object will be defective ", he explains.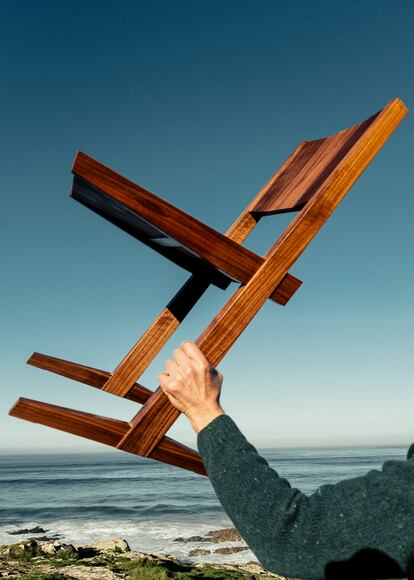 "My works take the form of furniture, which connects us with our physique and, by extension, with integrity. Wood in the form of furniture accompanies us throughout life, from birth to death, from cradle to coffin. It remains an omnipresent link between humans and nature, we are part of it in the same way that the tree was part of it before it became movable ", he says.
Before becoming a cabinetmaker, Frank worked on four continents (America, Asia, Europe and Africa), where he not only learned the trade: "In short, Africa has taught me to be grateful for what one has; Germany, technique, and Holland, pragmatism and conceptual thought ".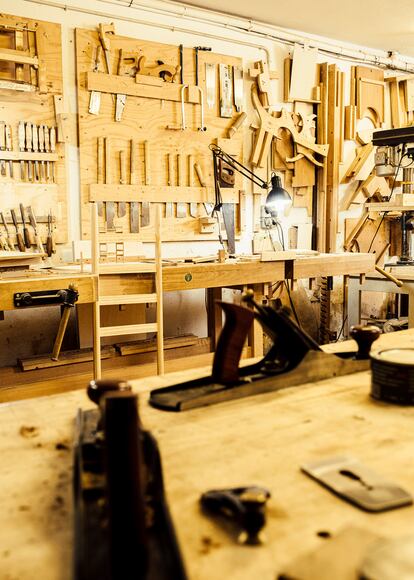 Faced with reminiscences of Japanese and culture Shaker that emerges from one of his works, chair # 3, explains that one of his greatest influences in recent years has been the work of George Nakashima. "My chair is the result of a process with which I investigate the origins and relationships of a sequence of chairs, starting with Nakashima's 1988 Conoid Chair, going through Rietveld's Zig-Zag or a 15th century chair. There is nothing that is not connected to everything. So the Japanese reference is just an entry. "
It is very common that in a conversation with Buschmann the figure of the American sociologist Richard Sennett, husband of Saskia Sassen, appears from time to time as one of his theoretical references. But following the teaching of surrounding oneself with beings that know more than one, Buschmann feels a predilection for the multidisciplinary work of the architect Buckminster Fuller and for nature, of course: "My most important reference is the tree, which provides me with the raw material for my work. , a wise being who connects heaven with earth. He is the tallest living being on the planet, a master of engineering as explained so well by Claus Mattheck in his essays on biomechanics. And if we think about the sum of each of the trees, the reference becomes nature. We are a landscape before we are born and after we die. In between we are landscapers. And as landscapers, in response to our limitations, we have positioned ourselves at the center of it all. I think it is time to bury our egos and listen to nature ".
As an artist, Buschmann is represented by the Álvaro Alcázar Gallery in Madrid. Thus, it has been present in the last three editions of Arco and, recently, it has participated in a joint exhibition with Luis Canelo, as well as in the last collective Have wood. "One may wonder what furniture does in a gallery. I usually answer that my work is not a piece of furniture, my work is my way of dialoguing with wood ".

elpais.com