Before being a giant in the world of gastronomy, the chef Wolfgang Puck had to deal with a lapidary phrase: "You are worth nothing." She was heard in her childhood by her stepfather, who abused him mentally and physically, and who raped her sister (something she recognized much later). It was also told to him at the age of 14 in a kitchen where he began to work. They not only underestimated it; they wanted to fire him from his only safe space. Desperate for the news, he approached a bridge to make a tragic decision. "After standing there for a while, I felt like lightning in my head and I said to myself: 'Well, I'll go back to the venue tomorrow," recalls the 71-year-old Austrian. The next day he barricaded himself with such determination that they decided to send him to a kitchen in another hotel, where the boss was a woman. And from there, it began to prosper.
Puck has reaped the most varied successes in the world of gastronomy: he manages more than 100 restaurants around the world, has two Michelin stars, and another on the Hollywood walk of fame, has twice received the Premio James Beard Outstanding Chef, has been a provider of the Oscars for more than 20 years and created a new concept of the profession on television. For all this, it was a dream for director David Gelb to work with him, and he embarked on the documentary Wolfgang, which premieres on Disney + this Friday.
The creator of Jiro Dreams of Sushi O Chef's Table wanted to portray the story that began with that young man who at 24 decided to move to another continent. "He revolutionized food in the United States, the way people view businesses, the way restaurants are laid out, he created this concept of open kitchen, which began with his restaurant Spago.. The chef's work is central to the action of the restaurant, and for all this he is a true living legend. And it is an incredible honor to work with him, "says the 37-year-old New York director.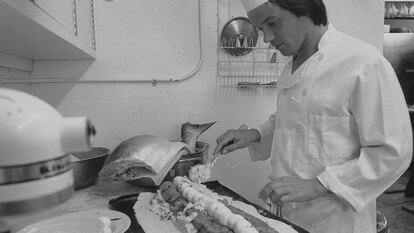 The protagonist of the documentary does not distinguish between celebrities and ordinary people. At least at lunchtime. "For me it's the same, because the dishes we make at the Oscars are also made in different restaurants," he explains in a video call. He remembers the year Joaquin Phoenix won the best actor award and how they adapted to their meat-free diet: "We made about 15 different and really good vegan dishes so that if you ate them you wouldn't miss any food. That doesn't mean we didn't prepare great steaks, lobster, fish … We did a lot of different things. We cook for everyone ".
Those same stars went to his restaurants and he was concerned that Austrians, like Billy Wilder – "he was very old" – or Arnold Schwarzenegger, would find dishes to their liking. To achieve this, he used the beautiful part of his childish memories: what he had learned in the kitchen with his mother. "Even today I can smell the house on Sunday morning… I used to make a cake like coffee, it was amazing. Also simple things, like cheese ravioli ". This last dish was one of those he rescued to share with the Americans.
Some scenes from the documentary show the culinary culture of the country, and Gelb acknowledges that it was inferior to that of Europe: "In the United States it was all hot dogs and fast food hamburgers. We used stock footage of an ad featuring a home cook and the voice in off It says, "Don't worry about peeling the vegetables." All of them disappear and the character only has to use the food spray. This is blasphemy to anyone who cares about cooking. Wolfgang changed that by bringing products to the plate, fantastic ingredients, and very simple cooking techniques that people can really taste. "
In the seventies, the chef brought an original menu with fresh dishes to the legendary Ma Maison, but he felt that his boss did not recognize his innovative work. He decided then to gain a foothold by opening his first restaurant, Spago. Los Angeles celebrities followed him to the new venue, for the quality of his work and for his overwhelming personality. Entrepreneur Michael Ovitz saw these gifts and pushed the Austrian onto television. "Ovitz is a talent agent who co-founded Creative Artists Agency (CAA), which was and still is one of the most powerful talent agencies in Hollywood. There they decide what the stars do, and they felt that he could revolutionize the world of chefs ", recalls Gelb. He got it. Went to Good Morning America, one of the biggest morning shows in the country. "People enjoyed learning to cook with him. Everything came together for him to reach stardom and to open the way for other professionals who would show that profession in the programs ".
In addition to showing the moments of glory, the director seeks to delve into other facets of the chef. "Wolfgang has been in thousands and thousands of television appearances, he has many books, everyone knows his name and his face, but they do not know where he comes from," he says, adding that he wanted to tell a story of overcoming. Puck is aware of all his sacrifices, that young people find it attractive to become recognized and that the most important thing, in any case, is hospitality and effort.
Her 26-year-old son Byron has followed in her footsteps: "He was always with me in the kitchen, he loves it. He went to a hospitality school called Cornell, which is the best hotel restaurant management school in America. Then he continued to love cooking, so I sent him to Gerona, in Spain, with the Roca brothers ". It is a way of life that requires many hours. In fact, according to account, it will be impossible for the son to watch the documentary with his father, because he has to work.
"In January Spago turns 40, and I think that even this year, now that the pandemic is over, it has been one of the best," says Puck. He does not refer to the emotional, because a few days ago the first chef of his restaurant passed away: "Mark has left and he is younger than me. I spoke to him a month ago and he was fine, but three weeks ago he went to the hospital, had an MRI and had terminal cancer. It was crazy. So I was like, 'You know what? We have to enjoy each day and I think the time for me is now ".
You can follow EL PAÍS TELEVISIÓN on Twitter or sign up here to receive our weekly newsletter.



elpais.com