"Do you think that how women dress has any effect on this temptation? [de violar]? "Asks the journalist. "If you wear very little clothing it will have an effect on the man, unless they are robots. It is common sense ", answers the Prime Minister of Pakistan, Imran Khan, in whose country sexual assaults have grown in recent years. Khan expresses himself like this in the last chapter of the HBO show Axios, specialized in current interviews. [Puede ver las respuestas sobre violaciones del primer ministro de Pakistán a partir del minuto 11 de este capítulo si está suscrito a HBO].
The Pakistani prime minister makes these statements in response to a question that the journalist asks him precisely, alluding to other statements in which he blamed the violations on women's clothing. Pakistan is ranked in the Global Gender Gap Index 2018 as the sixth most dangerous country in the world for women and the second worst in the world (148th) in terms of gender equality.
The journalist insists: "But is it really going to cause acts of sexual violence?" "It depends on the society you live in. In a society where people have never seen that kind of thing, it will have an effect. If you grow up in a society like yours, maybe I don't have it, "says Khan. The interviewer then reminds him that when he was a star of cricket (one of the main sports in the country) he was considered a Don Juan and dressed as he pleased. "This is not about me. It's about my society. My priority is how my society behaves. When I see that sexual crimes increase, we sit down and think about how to deal with it, "he adds.
These statements have generated outrage among feminist groups in the country: 16 organizations in favor of women and human rights called on the Pakistani prime minister on Thursday to apologize. Khan's comments are "dangerously simplistic and reinforce the public perception that women are victims who know what they are doing (tempting men) and men are defenseless aggressors," said the NGO Human Rights Commission of Pakistan (HRCP) in a statement.
"It gives impunity to those guilty of rape, sodomy and abusers," Karamat Ali, director of the Pakistan Institute of Labor, Education and Research, said of the prime minister's remarks. Kanwal Ahmed, member of a women's rights organization, tweeted: "It shocks me that many rapists today feel supported (by the words of the) prime minister that validate their crime." Critical organizations said they are demanding "a public apology from the prime minister and his assurance that his erroneous view of how and why rapes occur does not influence how the government tries to deal with this serious crime in Pakistan." The Executive expressed in a statement that his words had been distorted, according to Efe.
In April, Khan, already provoked strong criticism for his views on women's clothing. "If our religion gives us the concept of the veil, then there is some philosophy behind it and that philosophy is to save the family system and protect society," Khan said at the time during a television program in which he answered questions from the citizenship. The former cricketer did not back down from his words then, as he does now.
These statements come from a country where rape victims are often viewed with suspicion, and allegations of sexual assault are rarely seriously investigated. Much of Pakistan lives under a patriarchal code, based on the notion of "honor," which systematizes the oppression of women. Discontent is gaining ground over the way sexual abuse cases are handled in Pakistan. Massive protests broke out in 2020 following the rape, in the presence of her children, of a mother who ran out of fuel on a highway. A police officer accused her of driving alone at night without the presence of her husband.
Who is Imran Khan, the Prime Minister of Pakistan? By Ángeles Espinosa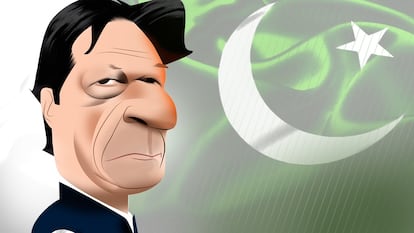 Khan has struggled to bury the playboy image he acquired as the Messi of cricket and presents himself as a devout Muslim and philanthropist. This has been contributed by his third marriage, to Bushra Maneka, described as his spiritual advisor and mother of five children. The controversial guru is the opposite of his first wife, the wealthy British heiress Jemima Goldsmith, with whom he had two children and amicably separated. But that relationship has given as much to talk about as the scandalous book published by his second wife, the journalist Reham Khan, in which he accused him of being promiscuous and having several unrecognized children. His rock star aura is starting to fade.



elpais.com