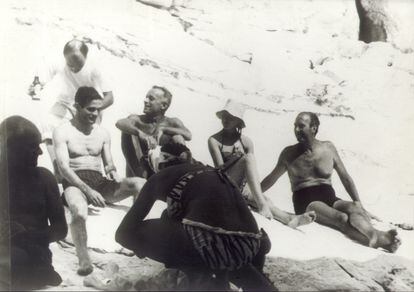 Giulio Einaudi (Dogliani, 1912-Rome, 1999) was a powerful editor who once mourned his decline. The portrait made of him by one of his closest collaborators, Ernesto Ferrero, has just been published in Spain by Trama. It appeared in your country as The best years of our life (The best years of our life) more than 15 years ago, and here it is still so busy, in Spanish, as The Einaudi tribe, a sum of facts that constitute the history of the publishing house that he called by his surname and that he founded in 1933. He left it in the hands of the Mondadori group in 1994.
The book, says Manuel Rodríguez Rivero in the prologue, is written "with a large dose of admiration and a pinch of resentment, which saves the profile drawn from mere hagiography." Ferrero, one of Einaudi's great collaborators, also cries at the end of the book, with emotion because at last his teacher has a radically human trait.
Now Ferrero is 85 years old and still lives in Turin, where the publisher's emporium was. Through Skype, surrounded by books tired by reading, he is seen happy remembering that atmosphere in which Cesare Pavese, Natalia Ginzburg, Leonardo Sciascia, Primo Levi, Pier Paolo Pasolini and, among many others, but primus inter pares, lived together Italo Calvino, the man who marked Einaudi's (literary) style while he marked everything with his odd personality.
That time is a relic contained in history and also in this book, whose protagonists receive the homage, and also the irony, of the biographer. Among the losses, the style. Neither the publishers nor the writers show that will to style that Calvino demanded, nor the radical intuition that Einaudi boasted. Ferrero now sees "writing threatened." "40 years ago Calvino was already worried about 'the beast of language'. And this disease has developed a lot. Today responsibility has been taken away from the word. The vocabulary is getting poorer; the use of English makes us seem global, but writing suffers ".
This impoverishment constitutes "a true disease of our civilization, because we are what we speak." Calvin, who was the touchstone of the Einaudi style, considered the use of language to be more important in selecting a novel than the underlying plot. "And now look what there is," says Ferrero: "Today we are in a rush, fury, to get where? To do what?
Today the book is of less interest, what matters is the character, who must be provocative, funny, brilliant, a 'showman'
Ferrero tells the story of Einaudi as if he wanted to stop her, offer it as a soothing to the urgency with which ephemeral geniuses now appear and disappear. "Today it is very difficult for there to be authentic teachers, because it is very difficult to mature. A young writer who writes a good book offers you three or six months or at least a year later another one that, moreover, has sometimes been requested by the publisher himself. It is a mistake: the publisher must allow this young writer to mature slowly, he cannot be put on an assembly line as if he were a free-range chicken. Today there is no time to grow ".
What now prevails, he says, is the English model, "a simplified, basic script; the syntax no longer interests anyone, no one knows what writing music is, and it is not taught… All the sentences are cut, to run, but where to? ". Einaudi, like Gaston Gallimard or, more recently, Peter Mayer, stopped that speed by saying no to some books and yes to others. "Now", says Ferrero, "they are all yeses… If we see the letters [de aceptación o rechazo] from Calvin or other Einaudians to authors who today are considered classics [como Leonardo Sciascia o Primo Levi]We see that they are very severe, very critical reviews. 70% of the novels published today would not have been published 20 or 30 years ago ".
Nor does literary criticism, to which Ferrero refers, measure up to the screening that would be necessary to return the syntax to the literary order. "What matters is the character, not the book. The character must be provocative, funny, brilliant, a showman. The book is of less interest, because to read you have to make an effort and now nobody wants to make an effort ". The rest is done by the networks, where the authors themselves indicate what their works like. "I think that today there is too much desire to like it. We need what we do, what we say, what we write to get a huge amount of likes. We are children who need to be told how smart we are! And I believe that literature should cause uncomfortable shocks, it should shake us, ask us questions, produce in us what Kafka said: an ax breaking the frozen sea … I don't want to exaggerate, but today I see a desire to please that leads the writer to offer a simplified merchandise, easy to consume, that does not make the reader strain ".
He lived with greats of Italian literature, so that greatness was visible. "So it was, the only one who suffered injustice in contact with Einaudi was Primo Levi, because I think it was Pavese, or maybe it was Natalia [Ginzburg], who rejected his If this is a man when its author gave it to us, although it would later be published by us in a collection of essays, as if it were not literature, but a document! He also gave us some stories that were considered science fiction. It took time to understand that Levi was above all a great writer ".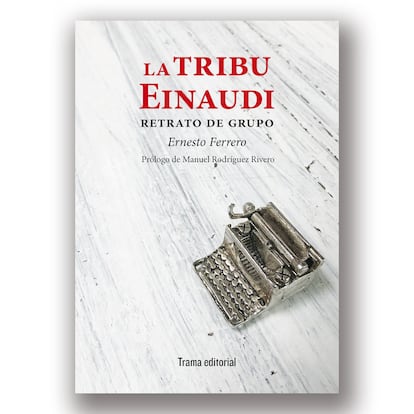 But no one there, not even Levi, "behaved like the stars or like the great actors, they didn't have divo poses, they didn't punch the table". In the meetings on Wednesdays, in which they coincided, it was impossible for Ferrero to argue with Calvino and for him to shut him up. "It was a complicated, colorful family, sometimes conflictive. But we spoke the same language ".
And Einaudi? "It was never bad; many said he was capricious or despotic, but they were not gratuitous whims. They were outbursts due to wanting everything to be done in the best possible way. He sought to do what had never been done. He was hungry for the future, and he never had enough of a future. He was looking for talents that were about to sprout. For him, every day had to be special ". And he adds: "He was selfish and egocentric, he subordinated everything to the satisfaction of that self. We could say that it subordinated everything to build happiness, but it was also a collective happiness, because we were happy, this word that can no longer be said. We had lots of fun. Yes, they were the best years of our life, not only in the life of Giulio Einaudi, but of many booksellers and many readers. They were years of great hope, of conviction that we were on the right track, that we were doing the right thing. Working with him was a huge reward, something that keeps you alive ".
You can follow BABELIA in Facebook Y Twitter, or sign up here to receive our weekly newsletter.



elpais.com