"There is no part of the world in which women have not been afraid of this type of sexual crimes throughout our lives," said Alicia Cebada, professor of Public International Law at the Carlos III University, at one of the tables. debate of the International Conference One more step towards the sexual disarmament of armed conflicts, organized by the Foundation Women for Africa, the General Gutiérrez Mellado University Institute and Spanish Women in International Security, which has been held this week in Madrid.
The conference was attended by speakers from human rights and civil society organizations, university experts, representatives of the UN and NATO, ministers and senior officials of the current Government of Spain, as well as activists from women's associations from countries in conflict ( Iraq, Syria, Palestine, Somalia, Sudan, among others) and leaders of groups that took legal action against aberrant sexual crimes, such as Sepur Zarco's grandmothers, in Guatemala.
The twenty years of life and validity of the United Nations resolution 1325 Women, Peace and Security They have allowed, in theory, the need for a gender perspective in armed conflicts to no longer be questioned. However, in practice, sexual violence continues to be used in societies weakened by inequality and as a weapon of war, in multiple aspects, ranging from misogynistic harassment and insults, to kidnappings and gang rapes, to marriages and forced pregnancies (or abortions), slavery or unintended sterilizations. As Kamilia Ibrahim, founder of the NuWEDA association in Sudan, said, "sexual violence is a tactic of war that is cultivated not only in war situations".
The structural disadvantages of gender and poverty are usually under the most common wound in countries mired in eternal conflicts, such as suicides and permanent traumas of raped girls and women who do not dare to report or of those violated who suffer health problems irreversible such as incontinence and lack of toilet training. And these unresolved inequities do not even require wars in devastated territories such as Mali, Afghanistan, Palestine or Somalia to reproduce: "Gender relations are power relations, they are the cause of inequality and violence, and that is why we cannot have people in decision-making positions without gender awareness that do not understand where structural inequalities come from, "Ana Helena Chacón, former vice president of Costa Rica and current ambassador of her country in Spain, firmly maintained.
There is no part of the world in which women have not been afraid of this type of sexual crimes throughout our lives

Alicia Cebada, Professor of Public International Law at the Carlos III University
In this sense, "it is women who have to tell their own stories", as stated by the former head of state of the Senegalese Armed Forces, Birame Diop. Otherwise, concepts "as patriarchal and paternalistic as the attack against modesty and honor continue to transmit and establish gender stereotypes, as decades of international humanitarian legislation have done," said Alicia Cebada, director of one of the Women's programs. for Africa. Because the Geneva conventions are "a product of their time", in the opinion of the professor of International Law, in which "the woman is the victim and the man the fighter." And today those instruments in which "only the crimes of rape and forced prostitution were explicitly considered" are insufficient.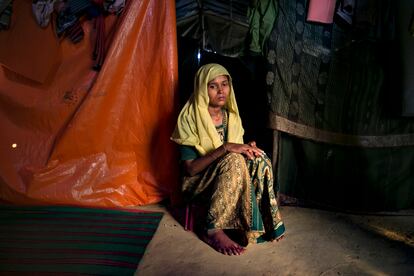 Hence Cebada's insistence on trying to eradicate these gender stereotypes that are still in force in many countries, as was evident in the testimonies of civil society speakers from different regions of the world, including Middle Eastern, African and Central American countries.
In the expert's opinion, advances in the protection of women's human rights have been explicitly made in the field of international criminal law, as can be seen in the recent judgments of the International Criminal Court (ICC) against Bosco Ntaganda, alias Terminator, and against the Ugandan Dominic Ongwen, a Warlord sentenced to 25 years in prison. Cebada put it this way: "In the case of Ntaganda, he was sentenced for 18 war crimes and crimes against humanity, including rape and sexual slavery, which occurred between 2002 and 2003, in the Republic of Congo, to 30 years in prison. and $ 30 million in repairs. These are the highest reparations imposed so far for these types of crimes, but they must be assumed by the trust fund of the International Criminal Court, which depends on the contributions of the States (in some cases, very meager) and that last year arrived barely 2.2 million euros ".
They, so emotional, or the devaluation of the feminine
When the world goes bad, women do worse. In this, the guests of the Madrid conference coincided, in face-to-face format and transmitted by the UNED channel. Therefore, "opening possibilities for women cannot mean going to war," said the Costa Rican Ana Helena Chacón; This means that "it is not enough to reach the places where differences are settled by killing" and repeat those behaviors, he remarked.
"Gender-based violence in a society is a basic condition for sexual violence in an armed conflict, in such a way that women and girls who suffer greater discrimination in times of peace will have a greater risk in times of war. . We have seen it in the pandemic, in which romanticized households, perpetuating the idea of ​​women in private and men in public ", illustrated Chacón.
"Sexual violence is a cheaper weapon than bullets, because it is based solely on gender difference," said the Costa Rican ambassador, adding that "this has nothing to do with sexual desire or a relief of primary instincts for part of the men, but rather the opposite, it is a way of expressing the need for control over women's bodies, and from power ".
Regarding gender stereotypes that contribute to the structural vulnerability of societies, Chacón illustrated: "Armies of strong men are needed to protect weak (or highly emotional) women." It is, of course, about "perpetuating a system of domination and fear", reinforcing the classic military roles, through "hypermasculinity in armed conflicts". There, where "the roles of women are reduced to the satisfaction of men, the procreation of the 'mother of the nation', bearer of purity, or the pregnant women of the next generation of soldiers." Of course, in this framework, "lesbian women and homosexual men do not fit into the roles of the war and can be singled out as unpatriotic," stressed the Costa Rican diplomat, who has constantly worked on raising awareness and expanding rights for the community. LGTBI.
The conference addressed the structural vulnerability of societies from all corners of the Earth, from multiple angles, and emphasizing the mechanisms that influence gender inequalities to worsen and become excruciating, in situations of war. In addition to the testimonies of women abducted in repressive societies who then use these threats to restrict the movements of half the population in times of peace, voices were added that recounted experiences in conflicts with their own name such as that of Darfur. or the massacre of Srebrenica. The keys to sexual disarmament, according to the experts, are justice and urgent reparation for each of these crimes against humanity.
You can follow PLANETA FUTURO in Twitter, Facebook e Instagram, and subscribe here a nuestra 'newsletter'.



elpais.com