Since 2010, the life of the Iranian filmmaker Mohammad Rasoulof (Shiraz, 48 years old) depends on the notifications that reach him on his mobile: at some point the Persian justice will enforce his imprisonment. From the island of Kish, in southern Iran – the director splits his days between that house and Tehran – Rasoulof, winner of the Berlinale 2020 with The lives of others, which opens in Spain this Friday, he responded by videoconference, with a huge shelf overflowing with books behind him, last Monday on his current legal situation: "I await the resolution of the two sentences still pending, one from 2010 and the other from 2017 , both suppose my entry into jail. The covid-19 has paralyzed the processes. Two days ago I received a text message warning me that one is a few more months late. As always, I don't know anything ".
In March 2010, Rasoulof was arrested for filming without permits and then he and Jafar Panahi, another great of Iranian cinema (who curiously also won the Golden Bear, in his case in 2015, with another clandestinely shot film, Taxi Tehran), were accused and convicted of "carrying out propaganda against the country." All for The White Meadows, Rasoulof movie that competed in the San Sebastián contest in 2009, and that Panahi rode. His second case comes from a statement on Iran's international relations that Rasoulof signed with 17 other filmmakers: the text message he mentions refers to that process.
For several years, Rasoulof continued to work and travel: Goodbye (2011), Manuscripts Don't Burn (2013) and A man of integrity (2017) were screened, and all won a prize, in the section A certain look in Cannes. With the trophy for best film for A man of integrity and after spending a few days in Hamburg (the city where he lived as a young man), Rasoulof landed at Tehran airport, where the policeman who withdrew his passport asked him, puzzled, why he was coming back. "This is my house," he replied, and from that moment on he has been forbidden to leave his country and shoot movies.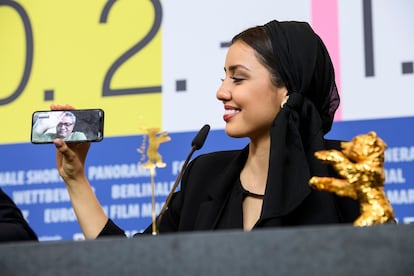 But he has not given up. In 2018 he received the Spike of Honor from the Seminci of Valladolid and – as he did in Berlin in the presentation of The lives of others— He responded to journalists by videoconference from his mobile. The filming of his latest work has been more complicated: he divided the story into four chapters (lasting 33 to 43 minutes) and presented them to the censors as if they were unrelated short films, and signed by straw men. "I directed the filming clandestinely, and to avoid being recognized I wore a hat, sunglasses and grew a beard … that I have recently shaved. They told me that it fit me well ", and between laughter he touches his chin. "At all times there was someone willing to take my place if the police appeared."
The four episodes are related to his life, they speak of moral resistance to authority ("Hannah Arendt was an inspiration") and the death penalty, and serve to explain his artistic mantra: "None of my films is political, but that are framed in social criticism. I am not talking about the regime, but about the impact of its decisions on people in the street, and that is why I am not interested in allegories, so common among my compatriots filmmakers ".
The hope that is born of the new generations
And he doesn't think things are going to be any different in Iran. The victory last Friday of the ultra-conservative Ebrahim Raisí in the presidential elections, with a large majority but with the lowest turnout in the history of the Islamic Republic (48.8%), underscores his vision: "I have been without hope for years. There will be no change from power. I have not even followed the campaign much, because the government is simply maneuvering towards fascism. That is clear if you review the history of humanity and the chain of actions of oppressive and totalitarian politicians, who are reforming administrations from within to strengthen their power. If there is hope, it will come from elsewhere. Which one? "The new generation of Iranians have a very different culture from the previous ones, and they are achieving a certain freedom of expression thanks to new technologies. Mobile cameras offer them access to their own, individual expression ".
That echo is in the fourth episode of his film, in which his own daughter, Baran, plays a girl who talks to an older man. "True, and it is also seen in the other chapters in the female characters. Women are leading some social changes in Iran.
The first episode portrays a family man, with his daily problems and daily stress, an official who in the end the viewer will discover that he is an executioner. After confessing that he does not know Luis García Berlanga's cinema, Rasoulof explains: "One day I saw one of my interrogators leave a bank, I followed him and wondered what his life would be like. In my first films I also fell into the trap of allegorical cinema, which is born from the heritage of classical Iranian literature. Our language comes from there. Today I know that my purpose is to present today's society, and that with metaphors you end up hiding the facts, you end up unconsciously subjected to repression. Now I shoot people and situations, without filters, like that executioner. That decision, the commitment to direct language, has a cost. In Iran this type of artistic expression is considered without aesthetic interest ".
Rasoulof appreciates the work of his team – "Despite the restrictions, the end result is a lot like what I imagined. If anything, some post-production detail has failed "- and he keeps working:" I can't say much, and I hope you can see the result soon. " Bitterness does not appear even in his last answer, questioned by a possible vital disappointment: "Like every human being, sometimes I feel that I am useless and that all this effort is wasted. But I have regained my relationship with my daughter, for example. She is very positive. And when life seems nonsense, why not invent a meaning? I prefer useless efforts to inaction ".

elpais.com