Cooking with the ingredients that the garden offers us in each season is not only more sustainable, but also more economical, tasty and healthy: seasonal fruits and vegetables should be the main contribution of our diet, until reaching 50% of the intake daily, according to The Healthy Eating Plate, the guide created by nutrition experts at the Harvard School of Public Health. Tomatoes, peaches, cherries, apricots, bell peppers, plums and green beans are some of the foods that can be used for cooking – with or without fire – during the summer.
In addition to the five proposals that we present below, salads are always a good option. With a generous base of summer vegetables – to which we can also add fruit, which will provide an interesting contrast in texture and flavor -, legumes that can be bought already cooked or whole grains. You can also incorporate a portion of protein in the form of boiled egg, tofu, smoked salmon … and any extra that provides a powerful flavor, such as chives, olives and pickles.
The final touch will be a good dressing or vinaigrette, with a base of extra virgin olive oil, salt and pepper, as well as vinegar or lemon or lime juice. If a diner has problems digesting the onion, cucumber or raw pepper, adding them chopped to the vinaigrette and letting them rest in it for a couple of hours will make the dish less aggressive without losing flavor. Yogurt, mustard or mayonnaise add a perfect texture to add life to the popular potato salads.
Spaghetti with tomato, parsley, garlic and chilli
Ingredients (for 4 people)
▪ 400 grams of spaghetti
▪ 8 pear tomatoes —or a can of good quality chopped tomato—
▪ about 12 cloves of garlic
▪ 2 handfuls of parsley leaves
▪ chilli or chili flakes to taste
▪ extra virgin olive oil and salt
Preparation
▪ If fresh tomatoes are used, cut them in the shape of a cross at the base, blanch them for 10 seconds in boiling water and transfer them to a bowl with ice water.
▪ Remove the peduncle, cut into one centimeter cubes, drain and reserve.
▪ Boil the pasta in plenty of salty water for one minute less than what the manufacturer indicates.
▪ Cut the garlic into thin slices and brown them over low heat in a large frying pan with a generous base of oil.
▪ When they begin to take color, add the chili and shortly after the tomato, raising the heat to the maximum to give them a short cooking time of about two minutes.
▪ Drain the pasta and put it in the sauce pan together with the water.
▪ Stir for a minute, check if it is necessary to correct the salt or spiciness, add the chopped parsley, stir for another minute and serve.
Salmorejo with egg, anchovies and cherries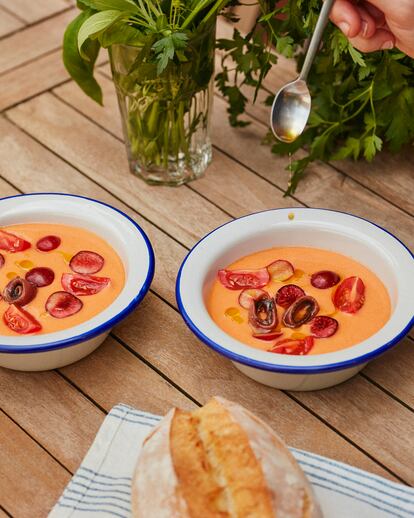 Ingredients (for 4 people)
▪ 300 grams of eve bread crumbs
▪ 800 grams of ripe tomatoes
▪ 300 grams of cherries
▪ 4 eggs
▪ 12 anchovy fillets
▪ 1 clove of garlic
▪ 200 milliliters of ice water, in addition to that necessary to wet the bread
▪ 100 milliliters of extra virgin olive oil, salt and white wine, apple or sherry vinegar.
Preparation
▪ Cook the eggs for eight minutes in boiling water and stop cooking with plenty of very cold water.
▪ Cut the bread into four or five pieces, wet them with water and, when they are soaked, drain them well.
▪ Remove the stems from the tomatoes and chop them, and pit the cherries, reserving some to decorate.
▪ With the help of a mixer, blend the tomatoes and cherries with garlic, vinegar and salt to taste until obtaining a fine cream.
▪ Add the oil to the thread, so that it emulsifies. Let it rest in the fridge for at least two hours (and even overnight).
▪ Serve with the chopped hard boiled egg, anchovies and reserved cherries, pitted and cut in half.
▪ Preparing three times more quantity of salmorejo solves several meals at once; Although it sounds weird, the addition of cherries as a garnish works great for it.
Chicken stewed with plums, wine and aromatic
Ingredients (for 4 people)
▪ 8 boneless chicken drumsticks
▪ 6 red or yellow plums —or mixed—
▪ 250 milliliters of dry or sweet white wine
▪ fresh or dried aromatic herbs – thyme, rosemary, sage … –
▪ 4 medium new potatoes
▪ extra virgin olive oil, salt and pepper
Preparation
▪ Cook the whole potatoes for about 20 minutes, or until they can be easily pierced with a skewer.
▪ Season the drumsticks, cut them into four and brown them in a saucepan with a little oil.
▪ Remove the chicken and add the pitted plums, cut into eight pieces. Mark them on all sides over a happy heat, return the chicken, add the aromatic herbs and cover with the wine.
▪ Bring to a boil and cook over low heat for about 12 minutes.
▪ Add the chopped potatoes – you can leave the skin on or remove it – the last two minutes, give a couple of turns so that they are soaked with the sauce and serve.
▪ It can be made even easier by substituting the potatoes for a loaf of bread to dip in the sauce. The formula is enhanced by using plums with different textures and acid points for greater contrast.
Couscous salad with apricot, cherry tomato and feta cheese
Ingredients (for 4 people)
▪ 250 grams of couscous (raw weight)
▪ 6 ripe apricots
▪ 20 tomates cherry
▪ 200 grams of feta cheese
▪ 50 grams of black olives
▪ extra virgin olive oil, mild vinegar or lemon juice, salt and pepper
Preparation
▪ Put the couscous in a glass or cup and measure the volume it occupies (3/4 cup, the whole glass…).
▪ Transfer the couscous to a bowl and measure the same amount of water at room temperature with a pinch of salt; Pour the water over the couscous, stir, cover with a cloth and wait for it to swell and soften (about 20 or 30 minutes). Meanwhile, cut the apricots into eight wedges and the cherry tomatoes in half, and prepare a vinaigrette with oil, vinegar or lemon, salt and pepper to taste.
▪ When the couscous is ready, put the fruits and tomatoes on top, top with the feta and olives, and dress to taste with the vinaigrette.
▪ A complete salad without having to light the fire? Yes, it can, thanks to the ability of couscous to hydrate at room temperature. You can change the apricots in this recipe for vine peach, strawberries or mango with an equally tasty result. You can also use cottage cheese, goat roll or cured cheese flakes instead of feta.
Stir-fry rice noodles with marinated tofu and vegetables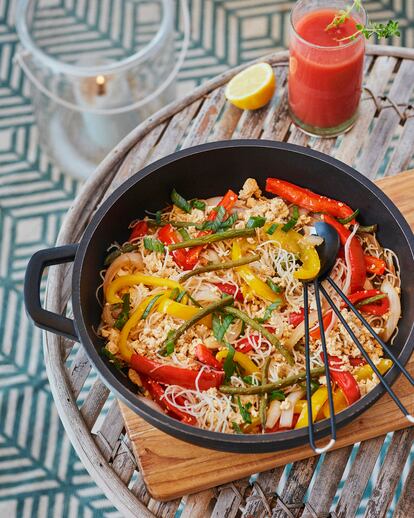 Ingredients (for 4 people)
▪ 350 grams of rice noodles
▪ 250 grams of bobby green beans
▪ 300 grams of hard tofu, a red (or colored) pepper
▪ a spring onion
▪ mild olive oil, soy sauce and rice vinegar
Preparation
▪ Crumble the block of tofu with your hands, put it on a strainer and press to remove as much water as possible.
▪ Marinate with a generous splash of soy sauce — and, if you like, a little rice vinegar — for at least an hour.
▪ Boil the noodles for one minute and stir until they begin to separate.
▪ Turn off the heat and wait three more minutes until they soften. Meanwhile, remove the tips of the beans, boil them for three minutes and cut the cooking with water and ice.
▪ Sauté the white part of the chives and peppers in a frying pan over a high heat, with a little oil.
▪ Add the green beans, tofu and drained noodles, season with more soy and vinegar (optional) and the chopped chive stem, and sauté for a couple of minutes before serving.

elpais.com