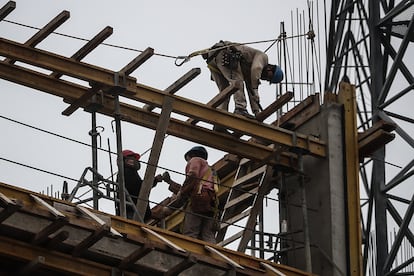 Argentina shows timid signs of recovery. After the collapse caused by the covid-19 pandemic in 2020, which exacerbated the economic crisis that has dragged the country since 2018, economic activity in the first quarter of 2021 grew by 2.5% compared to the same period in 2020 and by 2 , 6% compared to the previous quarter. The first months of last year were marked by the detection of the first cases of coronavirus and the preventive stoppage of almost all the country's productive machinery in the second half of March.
Argentina's GDP plummeted 9.9% last year, one of the biggest drops in all of Latin America. The growth reported this Wednesday by the National Institute of Statistics and Censuses It is a small advance, far from the growth projections of the Alberto Fernández Government for 2021. In the budget, the Executive opted for an increase in GDP of 5.5%, but the Minister of Economy, Martín Guzmán, raised then the 7% projection. International organizations such as the IMF and the World Bank forecast a growth of around 6% for Argentina.
Construction, with an improvement of 21.3% year-on-year, and manufacturing industry (11.4%) are the sectors that showed the greatest economic reactivation at the start of the year. On the contrary, both hotels and restaurants suffered a severe blow, with a decrease of 35.5% as they were severely punished by the restrictions on tourism and gastronomy imposed due to the covid-19.
Consumption increased compared to the previous quarter, but not in the year-on-year comparison: the private sector fell 0.7% while the public fell 0.5%. Regarding the trade balance, exports grew by 1.2%, a much lower rate than imports, which registered an increase of 18.8%, according to the progress report on economic activity.
The positive economic data contrasts with the epidemiological news. For the second day in a row, Argentina registered more than 700 deaths from covid-19 this Wednesday and the total death toll from the pandemic amounts to 90,986 people. The impact of the second wave in the country as of April, which took some intensive therapies to the limit, forced the Government to reimpose some of the restrictions that it had relaxed during the austral summer, although they are not as severe as those that governed good part of last year. The desired return to normalcy, as well as the complete economic recovery, is still a long way off.
Subscribe here to newsletter from EL PAÍS América and receive all the informative keys of the current situation of the region.

elpais.com