"Turning 50 has been a before and after for me, now I have a new life." Maribel Verdú assures that she has lost her fear. When he was offered the starring role of Ana Tramel. The game, the TVE series that this week competes in the Monte Carlo festival, the actress said no time and time again. Despite the fact that producers Gerardo Herrero and Mariela Besuievsky are lifelong friends of hers ("They were even at my wedding," he points out), he was terrified of facing, on the one hand, long legal texts that were difficult to memorize and express with naturalness and, on the other hand, a character like Ana Tramel, "a self-destructive woman, full of hatred and addicted to everything except gambling," as described by the actress. Why did he end up accepting then?
"Because Gerardo, Mariela and Roberto [Santiago, autor de la novela y el guion] they convince me. They told me that there was no other possible actress and that Roberto would accompany me throughout the process. I was especially afraid of a particular scene, in a bathtub, because I was physically very beastly and I was afraid of destroying my body everywhere. But Roberto told me that the whole story is built around that scene, that it was imperative to shoot it … The rod that I have given to poor Roberto and the patience he has had, "the actress recalls today. Verdú met Santiago when they shot in 2002 the pilot of a series that did not go ahead, a kind of Sex in New York to the Spanish on Telecinco, and walking through a bookstore years later he discovered that he had become the best-selling Spanish author among teenagers thanks to the saga 'Los futbolísimos'. The book on which the series is based, Ana, was the first adult novel by Roberto Santiago.
I've been a shit all my life. I said no to projects in America out of fear, I felt better little girl, in Spain and in Latin America, where I am comfortable
"That happens to me a lot, that suddenly a role scares me and I don't think I can do it. But with this project I decided to turn that paralyzing fear into a fear that makes you, that helps you, that makes you strong. And it was all thanks to the pandemic. I had a very bad time not only because of me but because my boy [el productor teatral Pedro Larrañaga] it was very bad, because I hit it. And my mother was also very ill for something else. Given that feeling that in a month I could lose my mother and my boy, my table of values ​​changed. It gave me so much strength … that I am going to be afraid of making a character? So I took the series with enthusiasm, with a different nerve, with adrenaline, "he explains.
That cowardice has led him in the past to reject projects in the United States such as Daredevil, The fire of revenge O Mission impossible 4. "I've been a shit all my life. I have said no to projects in America out of fear, I felt better little, in Spain and in Latin America, where I am comfortable, "she says. But when the last day of shooting Ana Tramel. The game Argentine director Andy Muschietti called her to offer her the role of the superhero's mother in The Flash, Verdú decided that this time he was going to dare. "I have said yes to two international projects [The Flash y la coproducción de Apple Now and Then] thanks to everything that happened to me in the pandemic. I don't want that fear. I feel like I've grown. Turning bad moments into something positive is easy to say, but not put into practice. " To prepare, his friend actress Aura Garrido has given him a DC Comics encyclopedia because Verdú admits that he only knew Superman and Batman.
Verdú turned 50 during the pandemic. And, in addition to losing his fear, he decided to take advantage of the confinement to clean up. In the process he came across the press scrapbooks that he started collecting when he debuted in The crime of Captain Sánchez (Vicente Aranda, 1985), at age 14 and precisely on TVE. "The texts published about me by such important writers as Paco Umbral, Manuel Vicent or Juan José Millás, with all the love and affection with those who wrote them, were very green. Today I don't think they dared, "he says.
The texts published about me by such important writers as Paco Umbral, Manuel Vicent or Juan José Millás, with all the love and affection with those who wrote them, were very green. Today I don't think they dare
During the nineties, Maribel Verdú received adjectives in the press such as "nymph", "ham" or "solid". When he starred in a lingerie campaign, people broke the windows of the canopies to steal the posters and Juan José Millás published imaginary conversations in which he walked through Madrid, flirted with Maribel and she responded to him from the marquee. That label, the official good aunt of the cinema, turned her into a sex symbol generational: there are few things more Spanish than Pablo Motos asking Pablo Iglesias about his adolescent erotic myth and he is answering: "Maribel Verdú". Until Playboy crowned her as the most Spanish sexy. Today the actress confesses that she never gave importance to it, but that she should have done it because that label made it more difficult for them to take her seriously. "I had no one to really advise me. It has cost me a lot, a lot, and it has been a job of mine. I had to stop wearing low-cut dresses and start wearing jackets and box collars at events, "she says. You shouldn't have to dress more demure to be respected. "Of course it shouldn't! It is that being a woman sucks in many things. Of course it shouldn't. But there comes a time when they take you differently ", he explains.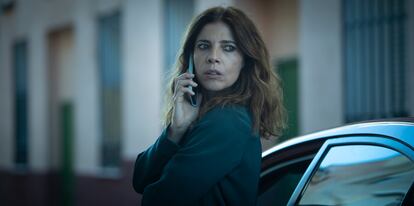 The burden of eroticism weighed so heavily that, for years, audiences seemed to be surprised again and again that she was a good actress. Happened with Lovers, with The good star, with And Your Mother Too, with The Pan's Labyrinth and with Seven French Pool Tables, his first Goya. But by the time the second won, by Snow White in 2013, he already did so as an aristocracy of Spanish cinema. Maribel Verdú has an unprecedented career that has made her a figure as folkloric as pop: she was forged during the last blows of classic Spanish cinema (she worked with Landa, Fernán-Gómez or Rabal), she presented galas by José Luis Moreno and now goes to make a superhero movie in Hollywood; both grandparents and grandchildren know her; And, while the Spanish film industry has been used as a piñata by some political parties, Verdú seems to arouse unanimous admiration among audiences of all ideologies.
In his maturity, he compares himself to some kids who are just starting out and are finding global fame thanks to a platform. "I have met some of them at events and they are so haughty. Not all, but some do. When I started out and they introduced me to Carmen Maura, Victoria Abril or Verónica Forqué, I felt admiration and respect for them. These guys probably don't have a clue who I am, because they haven't bothered to watch classic movies. But then you meet Miguel Bernardeau [protagonista de Élite, trabajó con Verdú en Ola de crímenes], who is a humble, affectionate boy, with film culture, and there you can see the parents he has had [Bernardeau es hijo del productor Miguel Ángel Bernardeau y la actriz Ana Duato]. But there are those who look at you … and feel … for being in a series or because they have followers on Instagram. What people will they surround themselves with to have those heads? He wonders. "The cult of celebrity we live in today terrifies me."
Every year since I turned 40, I think I will have fewer opportunities. Every year I think it will be the last, that they will forget about me
No columnist calls her "nymph" or "jamona" anymore, but she does hear a lot about "splendid at 50". "All the time, 'how good are you for your years' … and if it wasn't so good, what? Genes do a lot, my sisters are 45-year-old twins and they look like 30-year-old girls. There will be people who at my age are not as well as I am, and what happens? Look, every year since I turned 40, I think I'm going to have fewer opportunities. I always think that the protagonists are going to end, that the mothers and the supporting roles will arrive. Every year I think it will be the last, that they will forget about me ", he confesses.
Verdú recalls another dramatic turning point in his life, in the early 2000s, when he was unemployed for two years and simply assumed his career was over. In 2004 Guillermo del Toro came to Spain to prepare The Pan's Labyrinth and a very powerful person in the film industry tried to dissuade him by explaining that Maribel Verdú was finished. He was 34 years old. "Well, I have turned 50 and it turns out that each year is more interesting than the previous one," he celebrates today. "Now I have made Ana Tramel, an addict, without children, the opposite of the traditional. And I think of Emma [Suárez], who is six years older than me and does not stop working, suddenly Almodóvar called her, she won two Goyas. Aitana [Sánchez-Gijón] also now [va a trabajar con Almodóvar]. They show that you can continue working at that age ". By this rule of three, Verdú's next natural step would be to work with Pedro Almodóvar. Who said fear?
You can follow EL PAÍS TELEVISIÓN on Twitter or sign up here to receive our weekly newsletter.



elpais.com