A couple gazes spellbound at a suckling pig skewered on some embers. He nibbles on a cigarette and wears a hat; she, blonde and in jeans, smiles. Very close, vegetables, bread and sausages. They seem happy, as in another photo in a swimsuit next to a pool, or dressed to play tennis in another image, or having something under an umbrella or admiring the nature of Huesca. The old promotional poster that shows these stamps lies on a wooden table in a kitchen with an old stove and a timid light bulb that flickers thanks to a generator. Its light is barely glimpsed, under a sudden deluge, from the dirt track that leads to Suelves (Huesca).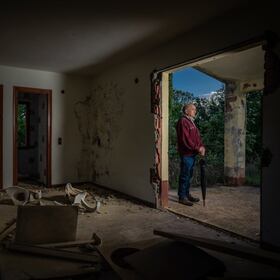 Photogallery: the abandoned Belgian "paradise" without electricity or running water
No one lives in that old house anymore, lament Arturo and David Olivera, father and son, without electricity or running water. No Huesca dwells in a ghost town that once had a noble presence and is now moving towards its definitive abandonment. "Back to paradise [De vuelta al paraíso]"Read the propaganda. An advertisement that misled dozens of Belgians decades ago. The promoter promised, in flamenco, hotels, golf, paved streets and peace. He only fulfilled what did not depend on him: the tranquility, which led those scammed Europeans to decide to build their own houses or improve the ones that were built. Today there are only two registered in Suelves: Godelieve Volckaerts and Ronny Thillo, accompanied in summer by other compatriots who go to other homes.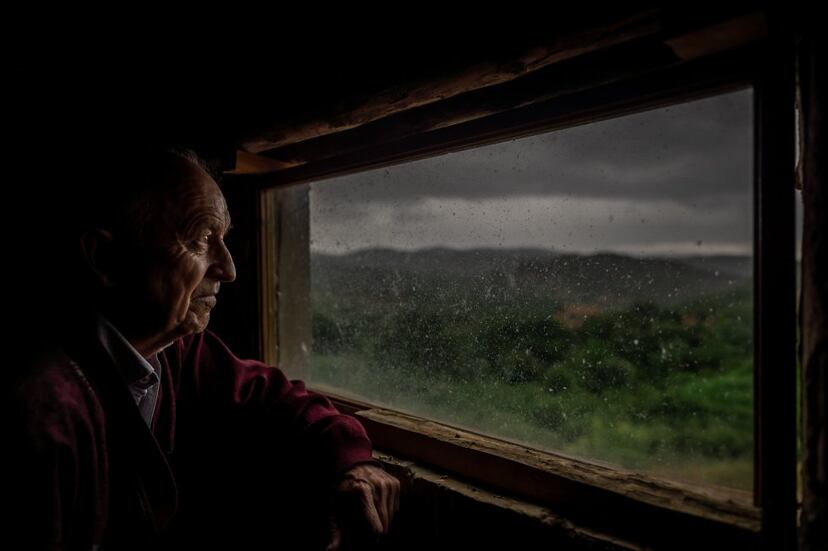 The marriage is far from those models that the fraudulent real estate agent hired. The 71-year-old former cleaner has brown hair and light eyes. Her husband, 66, an extra-carrier, with a shaved head and tattoos everywhere, brushes his mustache while Godelieve boasts that he lacks annoying neighbors or inopportune visitors. This couple from Antwerp met Suelves 15 years ago thanks to some friends and they moved six ago. It does not matter that there is no electricity, because they use solar panels. The water comes from the rain and they store it in tanks, apart from buying jugs and food in Barbastro, half an hour away by jeep. The glass-enclosed porch soon becomes foggy, with the dogs Darko and Kira being turned on by the soggy strangers, not minding the owner of the downpour. What's more, it celebrates it. More liters.
The story of his loneliness began in the 1960s. Suelves was almost uninhabited and a certain François Van der Bergh, in 1964, bought the entire municipality: he paid eight million pesetas except for the Olivera and Grasas houses, which they refused. The intermediaries deeded it in six million and the owners received only 2.5 million between all. First deception. In 1973, the German businessman Adolf Pelzl presented a project for a tourist complex valued at 2,500 million pesetas, he obtained the ministerial permission but the works did not begin. Second notice.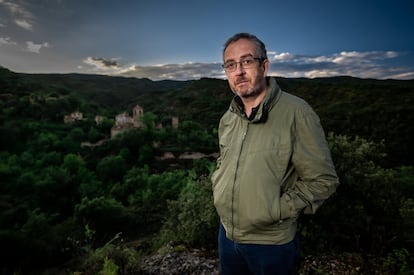 Then, explains Joaquín Puyuelo, a descendant of the town, the great scammer appeared: the Belgian Joseph Colls, who paid previous debts and in 1979 began to offer a kind of interior "Marina d'Or" in Belgium, with a thousand virtues. They even built "baits", says Puyuelo: a supermarket bar, changing rooms for a campsite, some pilot houses and a pool where now only the silt and the memory of David Olivera bathe, who remembers that his brother did splash before the house of cards will fall. The promoter and the money flew away and dozens of Belgians were left with plots in a wooded area of ​​Huesca. But they were seduced by the stillness.
Those who wanted something more vibrant sold their soil to other relaxation-loving Belgians. Each buyer then began to build on their land and to sprout roofs between the trees. The lonely and warm valley defeated the dark and collapsed Belgium, recalls Volckaerts: "I breathe better here and my back doesn't hurt." His expressive face twists as he asks what would have happened if the resort had prospered. They would not live here, he argues, nor would other Belgians so integrated that they celebrate both the traditional Ascension Day on May 30 and the Belgian holiday on July 21.
Those who knew the con artist Colls remember him as "big, with a big voice and blue eyes", something cool and with enough Spanish to persuade the unwary. Two of his victims, Raf Vanrobaeys and Deley Andrea, came to him in 1980 when they learned of this plan of "swimming pools, restaurants and shops" and saw some photos that seduced them. These two old men, aged 84 and 82, narrate by phone that last year they returned to their country, 1,200 kilometers from Suelves, and sold that house without electricity or water. Raf has even written a book about these misadventures. Today they speak with "sorrow" of their goodbye and emphasize that in Aragon they were happy: they settled despite so many unfulfilled promises, like so many other colleagues.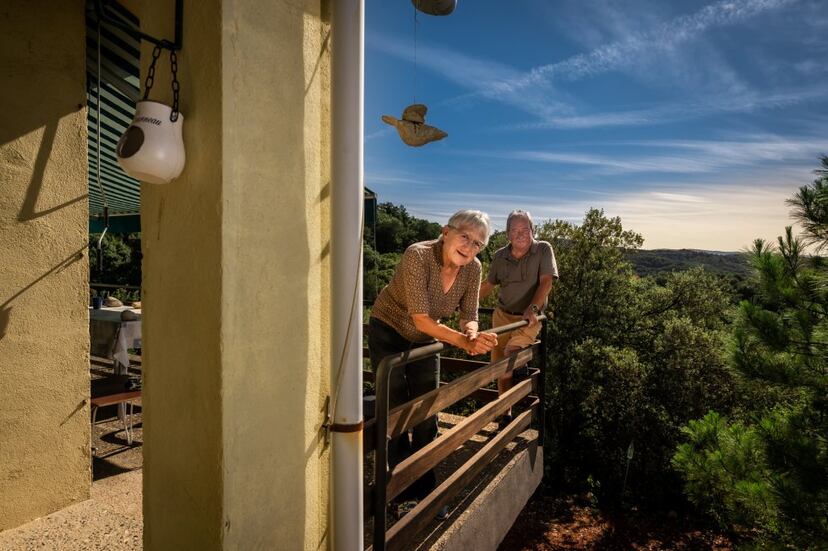 This is the case of Isabel and Bruno Liégeois. These gray-haired inhabitants of Antwerp, 76, have traveled to Suelves for 27 years since they bought a house from their uncle in the so-called Romeo neighborhood. His family member, they say, was duped but stayed for the peace of Huesca. This part does not have running water but does have electricity, they add, although its installation bothered that man, enemy of cables. "Our grandchildren are delighted," says the couple, also suspicious that their oasis will become overcrowded. What they claim is a decent road.
That is one of the great requests of those most linked to Suelves, such as Toño Lascorz and Matilde Grasa, who demand that the municipality they depend on, Bárcabo, contribute to the supply of water and electricity, in addition to improving the roads. The mayor, Carmen Lalueza, assures that they would like to intervene, but it "exceeds them economically" and redirects the deputation or the Junta de Aragón.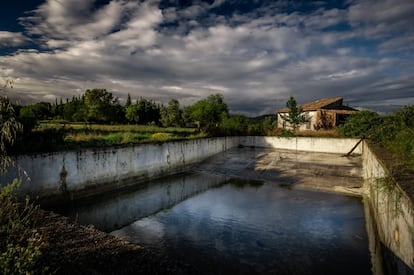 The other battle is to recover some parcels belonging to the heirs of the late Joaquín García, a former lawyer for the promoter that went bankrupt. This, through an execution procedure, took over a good part of the land in the town. His family owns unused spaces, looted and eaten by nature that this group asks to manage to take advantage of the Belgian pull and really resurrect the town with interested people. The Garcias never respond, nor to EL PAÍS, so time continues to pass.
Lascorz, who enjoys the aroma of thyme and rosemary, points out the ruins of the old town and denies that of "empty Spain" that the administrations cannot remedy. He does not know what will happen to Suelves, but he applauds the "illusion" of the foreigners. His effort and his will, he trusts, will benefit the modest paradise chosen for his misdeeds by the late con artist who, according to legend, was killed by the mafia in Marseille.

elpais.com