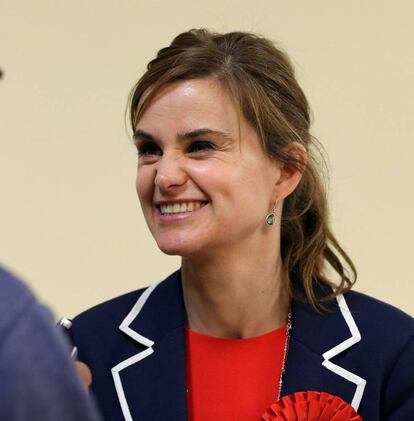 Jo Cox (United Kingdom, 1974 – 2016) has left an important legacy. The phrase "there is much more that unites us than what separates us", delivered at the beginning of her term as a member of parliament, reflects an essential part of your identity. Cox was a person who, valuing diversity, always prioritized the search for those elements that allow everyone to connect. Of that which avoids dehumanization. No exclusions.
These days we remember the continuation of Jo's struggle for tolerance. The overwhelming intensity of the suffering after that murder committed five years ago. The union of thousands of people after his death is remembered. The commemorative events, the phone calls, the mourning. And the invitation to love like Jo in the days before. An emotional and exciting reminder of the life of a person who, like writer Jack London, wanted to live and not just exist. From a person who lived intensely.
Born and raised in the north of England, she was the first person in her family to go to college. Her arrival in an elite space, the University of Cambridge, was difficult for her: a feeling of loneliness, of not fitting in between people with more predictable family, economic and geographical backgrounds. In those days she already demonstrated her capacity for resistance and, ending with academic success, she ended her stage convinced of her ability to have a positive impact in an unjust world.
Encounters in subsequent years reinforced his convictions. Tracing common threads between different realities. Making compatible the consciousness of originating from a region affected by inequalities within the country, with the dizzying consciousness represented by inequalities between people on a planetary scale. Working passionately in Brussels and being transformed by the poverty of an impoverished Cape Town neighborhood.
Being able to empathize with different parties in a conflict, to listen. Understanding the story told by the Israeli military and politicians, while still feeling the injustice suffered by the Palestinian population. His experiences in places like Gaza and Darfur brought a sense of urgency, a point of impatience, to his bright and optimistic character.
Jo was a person who, valuing diversity, always prioritized the search for those elements that allow everyone to connect. Of what avoids dehumanization. No exclusions.
Jo is remembered among many things for her work as a director of the NGO Oxfam, with whom she promoted various humanitarian causes such as the adoption of the Arms Trade Treaty. Likewise, since 2015 she has actively participated as a parliamentarian in events for the continuation of the United Kingdom in Europe.
She was a mother, this being her priority task even during her time as a political representative. His arrival in parliament is connected with his origins, with his family. She remained anchored to the land, to a specific territory and to a specific family, while her empathy spread globally.
In her parliamentary work, she prioritized what was important, compared to the possibility of being reelected a few years later. He stood out for his work, he spoke with whoever was convenient related to the conflict in Syria, which was the main theme of one of his most prominent speeches. His sensitivity allowed him, based on personal experiences in his constituency, to lead a work against loneliness that has led the United Kingdom to be a pioneer country in this field. The Commission on Loneliness that he promoted Connect with his commitment to connect with the humanity of all people.
It is common to repent for what could not, or can no longer be said. In the trial after Jo's murder, she was reminded that she was not perfect, that she could, because of things like her inevitable tardiness, become one of the most frustrating people in the world. That she was powerful because of the intensity of her passion and commitment to her values. May his love, his example and his values ​​live on.

elpais.com