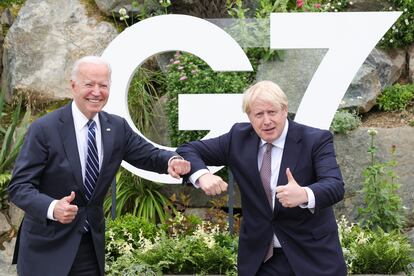 This weekend's G-7 summit in the Cornish coastal region was Boris Johnson's longed-for showcase to officially present his vision of a global Britain for the post-Brexit era to the world. To begin with, there are favorable elements for London. The bilateral meeting prior to the summit with the president of the United States, Joe Biden, has flowed positively for Johnson, with an emphatic revision of the Atlantic Charter that unites both countries and without public agitation of the Northern Irish question; The G-7, in turn, is starting with a smooth sailing, thanks to the previous agreement on corporate taxes and some promising harmony in other areas.
But this is only part of the scenario. Although he has not expressed it openly in the bilateral, Biden and his administration privately pressure London to avoid inflammatory actions in the crisis in Northern Ireland, in which the Johnson government has maintained questionable attitudes. The European leaders invited to the G-7, in fact, arrive at the meeting in Cornwall deeply irritated by the maneuvers deployed by the British Executive to breach an international treaty, the Protocol of Ireland, which took years of sweat and tears to build to reach a agreement on Brexit.
Northern Ireland is not the only problem. Frictions with Europeans have commercial, fishing or migratory aspects, one of the several issues in which a sad distance is detected between the rhetoric of the new United Kingdom and reality. Proclamations in defense of an "open society" squeak with the crowding of irregular migrants into barracks, which the UK's own Supreme Court has declared contrary to the law. In the same way, the call for solidarity that is part of the spirit of the summit collides with the decision to abolish the Department of Development Aid and reduce this budget item from 0.7% to 0.5%. A movement that has attracted the surprising unanimous rejection of five former prime ministers, Labor and Conservatives.
Biden's polite demeanor, in all likelihood, doesn't mean he's forgotten Johnson's flirtations with Trump. In the same way, Europeans do not forget all the times that they have had to remind them that pacta sunt servanda. Johnson pursues the difficult balance of satisfying the domestic electoral base that supported his Brexit and simultaneously presenting himself to the world as the champion of a new safe and stable order. It will have to overcome with more deeds than words the mistrust that it has caused up to now in its international partners.

elpais.com