Politics runs in the family for Gabrielius Landsbergis (Vilnius, 39 years old). His grandfather, Vytautas Landsbergis, was the first President of Lithuania to declare himself independent from the Soviet Union in 1990. Both share misgivings towards the Russia of Vladimir Putin and Aleksandr Lukashenko's regime in Belarus, against whom he has faced the biggest crisis in his six months in office.
Question. How do you see the evolution of the crisis with Belarus?
Answer. It is very worrying. [El presidente] Lukashenko has shown that he is capable of using instruments against civilians and the opposition that we did not imagine. When someone takes a commercial flight, they do so with the confidence that the plane is safe and that the people on it are safe. That is no longer the case and the worst thing is that we do not know if it is the last red line that Belarus skips or if there will be more.
P. And what role do you think Russia has played in all this?
R. Without a doubt, Russia is behind all the episodes of destabilization in the region. Putin has elections at the end of the year and I am not sure he is confident in his chances because he is not as strong as he used to be. That is why he needs, first of all, to ensure that there is no internal opposition, which is what he has done with Alexei Navalni, and then to try to show that he is the only one who can give stability to the region. And for that, first, it has to create a situation of instability on which to act. The message that Europe has to convey not only to Minsk, but to Moscow, is that we are aware of his participation in these episodes, in his attempts to destabilize the region and we do not trust him as a peacemaker.
P. In recent weeks, his government has accused Belarus of allowing, and even encouraging, the entry of illegal migrants across the border.
R. Migration is increasingly part of those hybrid threats we face. Many countries in Europe face the arrival of irregular migrants – Spain, Germany or Italy, for example – but in this case it is directed migration, because it is not about people who want to come to Lithuania to seek a better life, rather, the Belarusian regime makes them cross the border to destabilize the European Union. And that means that the northern European border is no longer secure.
P. What do you expect the European Union to do there?
R. Now we are among the countries that have problems with irregular immigration and we have no experience there. In the past we have participated in the relocation program, we recently welcomed 10 asylum seekers from Lampedusa (Italy), but our only experience was with legal migration, where we could decide whether or not to enter the country. So we need help with border control and technical and political assistance to deal with this situation.
P. And in general, what do you expect the EU to do with Belarus?
R. I think a lot of the things we didn't do after last year's election [cuando Lukashenko fue reelegido presidente en medio de acusaciones de fraude y las mayores protestas desde la caída de la URSS] now they seem quite reasonable. Belarus is highly dependent on trade with and through Europe, for petroleum products, machinery and even for its financing, as half of Belarusian debt is held by Western banks. Sanctions can be imposed on those sectors.
Sanctions would raise the cost to Putin of supporting Lukashenko
P. Such measures may end up damaging the Lithuanian economy, which does extensive business with Belarus through the port of Klaipeda.
R. Maybe yes, but we believe that even so the debate must be raised and we also believe that it is fair. If the decision really ends up hurting our economy, then we could ask the EU for some kind of help or compensation. Ideally, find a balance.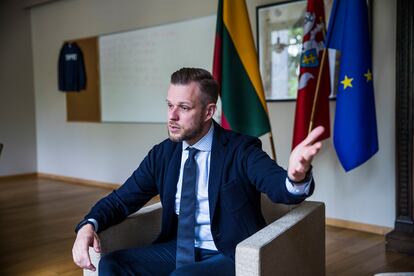 P. Are you not afraid that these measures will end up throwing Lukashenko even more into the arms of Moscow?
R. There is no doubt that this would raise the price Moscow has to pay to keep Lukashenko, and I am not sure that Putin is willing to do so. Right now, Putin is in a difficult position. On the one hand, he would like to get rid of Lukashenko because he is ineffective and those sanctions end up costing Russia dearly. But on the other hand, if he lets Lukashenko fall, it would be like admitting that social pressure has forced his departure. And that can spark interesting ideas in Russia. I think you are at a crossroads.
P. After the plane incident, have you had to increase the security of the Belarusian opposition living in exile in Lithuania?
R. We are still evaluating the situation. We help the politicians who are here as much as we can, as befits a host country. They have to be cautious and aware that even though they are in a NATO and EU country, Russia and Belarus can infiltrate agents – as has happened in the UK and other countries.
P. Have you been able to talk to [Roman] Protasevich?
R. No, not yet. We are in contact with his family, but we have no official news. Then there is what we have seen broadcast on Belarusian television, which is simply horrible, because it showed a person who had clearly been tortured and forced to say things that show that he is not his true self speaking. All of this shows that we cannot accept that more than 400 people are being tortured and imprisoned just 200 kilometers from where we are sitting right now, in a world much like North Korea.
P. Looking at the derivative that the Belarusian regime is adopting, what is your worst fear?
R. Belarus has actually become a prison, a gulag for the 10 million people who live behind its border, with an unstable leader and with the lives of many people in danger.

elpais.com