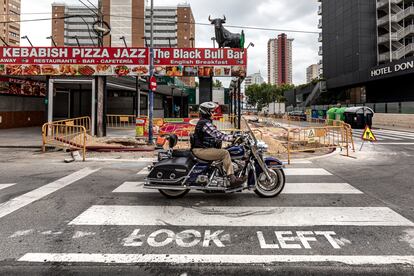 Not Al Stewart and his Year of the Cat they had been so right in naming an era like the one that today defines the unfortunate British moment. Unfortunately for all of us who aspired to revisit again and again the red cabins, the changing of the Guard or the gates of Buckingham Palace as if we could glimpse an already impossible Lilibet Diana, because Enrique and Meghan's girl lives in America. Oh, England. That nostalgia.
The mentioned era is called today The year of the Staycation, a kind of home vacation turned into the flag of patriotic tourism born of the pandemic. Since we can't go out, let's enjoy our country. It was not bad in the middle of a pandemic. But.
The British Government, the same one that is placing Spaniards who do not have a work permit in immigration centers without Boris Johnson's disheveled (even more), has put countries as close as Portugal or Spain. Thousands have had to flee the Algarve before being forced to quarantine and pay multiple PCRs to return home; many others have stayed and assume the consequences; and Spanish companies tremble more at the idea of ​​the British absence than at a wave of balconning massive.
The year of the stay-vacationTo mistranslate an already haunted term, it is actually another wave of the same tide, another echo of the same isolationism that the United Kingdom practiced under Johnson and that will still give us great displeasure.
The figures are not really that great. 60% of the British have already received the first dose of the vaccine, yes, but so have 42.8% of the Spanish, who will be many more during the summer. 24.3% already have the complete pattern in Spain and per capita income, deaths and incidence continue to decline at a good rate. London has alleged the growth of infections in its country due to the new variants, but the truth is that – fortunately – this does not translate to deaths or hospitalizations.
What is certain is that the British tourism sector expects to be left with a big bite, some 22,000 million pounds (25,500 million euros), of the 54,800 that its population habitually left abroad for holidays. Thanks to staycation. Nothing bad. The European continent, as he said, will remain isolated.

elpais.com