Acquiring a property is one of the greatest steps in life – a decision that is also the realization of our efforts in a legacy of security and prosperity for our family. That is why when it comes time to choose what will be our definitive home, we must be attentive in all the processes and parts involved, as well as having the greatest amount of information and tools available.
Behind a new house for you and your family there are various specific and pertinent questions, requirements and possible scenarios that will have to be consulted beforehand to make the right decision. Have you imagined what type of house you need? What do you need and what options do you have to achieve it? Who can make things safe and comprehensive for you? If you keep in mind all the points to consider and actions to take, everything will be clearer and simpler. Take note.
To Choose Well
The house of your dreams exists and you will have to know it in detail – know how many rooms it has, how much space the family needs to live in it in the long term and how it suits their needs. Likewise, its location, as well as the possibility of expanding or modifying it in the future are determining aspects that must go hand in hand with the desire to live there for a long time.
It will be necessary to evaluate in detail how these requirements take shape in a real home purchase option, how many properties there are with those desired characteristics, what is their average cost, what state they are in and what types of financial schemes they accept.
These aspects will have to incorporate our situation and financial capacity, as well as determine the budget available to pay the house in different possible scenarios, which should be drawn from the balance between our monthly expenses and perceptions.
According to Rocket Mortgage®, America's Largest Mortgage CompanyiSetting a debt-to-income ratio that does not exceed approximately 50% is one of the ways to access a mortgage loan. Also remember that the amount you will be paying should not limit your solvency for other fixed expenses and possible eventualities. It is advised not to spend more than 28% of our gross monthly income.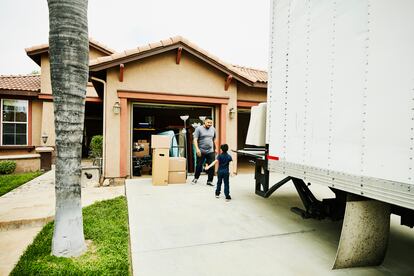 Shaping The Home
Once you know what the house you want is and what is best for you and your family, that you already know its cost and how you could pay it, you will have to do the calculation of your debt incorporating the key down payment – the down payment that will help much to chart the good course of the rest of the associated expenses.
At this point it is pertinent to bear in mind that, if you save to pay a down payment of more than 20% of the cost of the property, this will not only reduce the interest rate on your mortgage loan payments, but will also totally exempt you from other types of associated expenses, such as private mortgage insurance, or PMI as it is known in the market.
Subsequently, we will have to contact a mortgage company that can provide us with different loan scenarios, always depending on what we want to buy and what we can afford from our ability to pay, down payment and financial situation. This company will help us to land in a real way the way to our new house in a comprehensive, safe and real way, incorporating deadlines, requirements (financial, fiscal and legal), scenarios, eventualities, as well as different options to fulfill them and make our payments. a firm step by step in front of our new home.
About, Rocket Mortgage emphasizes that a solvent mortgage company helps us to draw up a debt calculation that we will solve throughout the process, which incorporates the principal payment (the amount we request for a loan), interest and possible penalties, as well as taxes , insurance and associated fees, if any.
Green Light: Way Home
Once we have applied and our mortgage loan has been pre-approved, we will have to look for a reliable real estate agent, who will help us not only find that house that we want and can afford, but also see that it meets all the necessary requirements involved in a purchase, to finally make a suitable purchase offer.
Here begins a path of appointments, contract signatures and stationery, which, although extensive, also entails punctual compliance to protect your purchase, making it more secure, legal and efficient. Your real estate agent will inform you in a timely manner what are the requirements that you must meet at each stage of the process – official identification, proof of payments and insurance, viable credit history, reliable proof of income that shows our ability to pay, reading and signing of contracts with their due clauses, mechanisms and payment terms, among others, to make this process the most solid pillar of a goal about to be achieved: inhabiting our new home.

elpais.com