In recent years, our living spaces have been strengthened as one of the most essential family assets. Today, having a home is not only having a safe place in which to grow together fully, it is also ensuring a good for life.
Reaching that moment in which we consider the real decision to acquire a house represents an important responsibility, which starts from a vital and strategic planning, driven by two key questions: what type of house do I want? and how much can I pay for it?
Beyond imagining the iconic house of our dreams, wide, bright and spacious, to this initial question we will have to add certain variables:
– Do you have the will to inhabit a house for a long time?
– How many children do you plan to have?
– Do you plan to inherit or sell in the future?
– Do you want to rent to a third party?
– What area do you want it to be in?
– Would you contemplate expanding and / or modifying it later?
– Do we want a pet?
These questions are very helpful, as they help us to better define the type, appearance, size and essential qualities of the house we want.
"I knew all the houses, I chose the best one "
Now, not all houses are the same and not all are eligible when it comes to obtaining a mortgage to acquire it. Knowing the types of available and eligible homes will make your search even more accurate, focusing on the one that suits you best: single family, attached single family, duplex, condominium, or belonging to a planned unit development (PUD).
The best house will be the one that meets all the requirements, or the vast majority of them, at least the most important, to make the purchase effort a viable and achievable experience, consistent with the needs of your family. It is important to know all the available and eligible types in order to finally choose the most suitable one.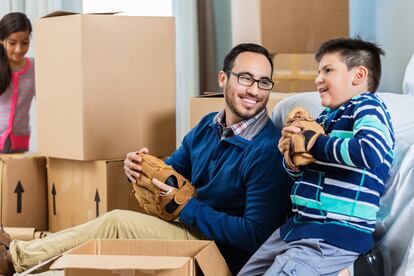 Making Numbers
Once you have focused on the different houses that fit what the family needs and wants, the financial part will have to be reviewed. Some approaches that will give you clarity are:
– How much are my gross monthly earnings?
– What is my fixed recurring expense?
– Do I have money saved and can I use it to make a first down payment?
– Do I plan to pay it myself, in partnership with my partner or with the help of a third party?
– What percentage of my earnings can I keep for eventualities?
It is important to approach a mortgage expert, who will not only help us clarify all doubts, based on the information previously outlined. In this sense, Rocket Mortgage®, one of the leading comprehensive mortgage companies in the United States real estate marketi, points out that the type of house that we can pay is strongly related to the type of mortgage for which we are candidates and with the debt that a lender considers that we can contract.
Your real estate advisor will be able to specifically and clearly land the different options you have to buy that house that you want and can pay, based on your financial situation and the requirements it needs, defining the type of mortgage credit, terms, rates, taxes and associated costs, as well as amounts and modalities of initial payments.
Take into account that being an important life decision and representing a long-term financial effort, the process that takes us from the moment you establish the type of house you want and can afford, as well as the mortgage loan application until The moment they give you the keys to your house can take up to 60 days, ensuring the acquisition step by step, legally, fiscally and financially for all parties involved.
Starting a new home is possible, it's just a matter of finding the right mortgage experience to our measure.

elpais.com