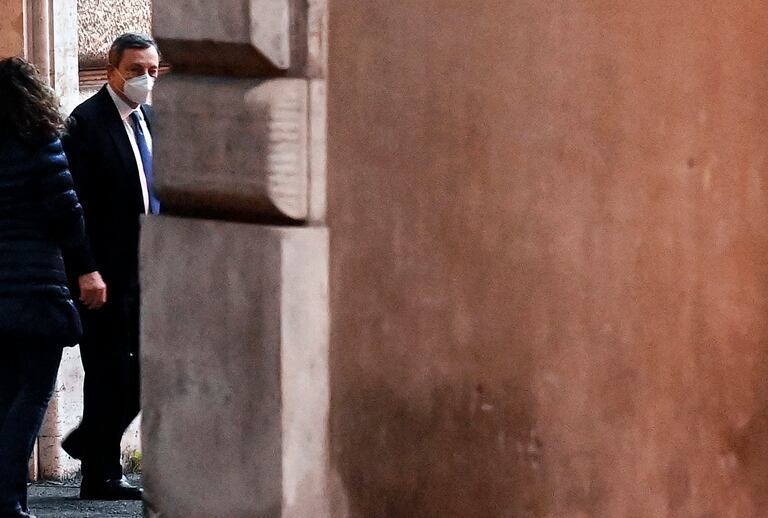 Almost 10 years ago, Mario Draghi (Rome, 73 years old) emerged as the savior of the euro: he spoke three magic words –whatever it takesWhatever it takes — and the speculators fled like rabbits. That seemed the culminating point of his career until just a few hours ago: the most difficult still consists of saving Italy, an industrial power in decline, in permanent political crisis, incapable of making reforms, with an economy that has not grown for 20 years and in debt up to the eyebrows.
Draghi's life journey has been marked by fire since its inception. The son of a former employee of the Italian central bank, Draghi lost his parents in adolescence, just before that May 68 that marked his generation: "I grew my hair long, but not very long, I had no parents to rebel against. " He studied in the Jesuits; Luca di Montezemolo, a Fiat expatriate who shared a desk with him, says that even then he was the best of his class. He settled on economics and ended up earning a doctorate from the prestigious MIT, in a batch of some of the best economists of his generation, from Ben Bernanke to Olivier Blanchard. Your doctoral thesis, Essays on economic theory, dates from 1976. There he analyzes the difficulties in applying stabilization policies in the short term and combining them with long-term reforms: more or less the challenge that he now has at hand.
After passing through the university, he began his brilliant career as a high official. It helped prepare Italy to join the euro zone with tough economic policies. He went through the Treasury, through the Bank of Italy and forged a well-deserved fame as one of the honorary members of the elite of the Italian civil service, a handful of technocrats capable of occupying the most relevant positions in the European institutions and making it work the country despite the perpetual instability of its governments. At one point he decided to go to the other side: he was vice president of the US investment bank Goldman Sachs during the years in which the "vampire squid" – in the happy definition of the writer Matt Taibi – helped to make up the accounts of Greece. Draghi has never clarified what he did there.
But neither his time at Goldman nor his Italian passport – which aroused misgivings in Berlin – prevented him from reaching the presidency of the ECB to replace Jean-Claude Trichet. The French had just screwed up, with untimely interest rate hikes and his refusal to activate extraordinary monetary policies for extraordinary times. Draghi's pulse did not tremble: the first day he lowered interest rates and put a hose on liquidity in the bank. Then he convinced Chancellor Angela Merkel that she had to enter the stormy waters of the purchase of public debt and, in short, that one was removed from the hat. whatever it takes mythical that saved the euro from burning.
Draghi's black legend is not limited to Goldman. In August 2011 he signed an ultimatum from Trichet to Berlusconi: a letter in which the ECB, together with the Bank of Italy that he led, forced them to carry out harsh reforms without any democratic legitimacy to do so. Later, in Frankfurt, he subjected several countries to enormous pressure and practically forced several governments – Mariano Rajoy's among them – to ask for a ransom that no one wanted because it was associated with draconian cuts. With Greece he went even further and gave the country a corralito. "Tragic despot", called the minister Yanis Varoufakis, who discovered firsthand that when the ECB wants something, it knows how to get it.
Draghi had left the Great Recession more or less on track when he left the ECB, in which he added to his technical brilliance an immense talent for communication and a keen political instinct: that baggage is going to be well needed in his new adventure. Since he packed his things in Frankfurt and returned to Rome in October 2019, he had moved behind the scenes. Shy and very jealous of his privacy — he is married with two children, Federica and Giacomo — he became, despite himself, the center of political circles whenever things went wrong. Especially after an article in which he encouraged spending and invited not to worry about the debt to get out of the crisis generated by the covid, a position with which he won the favor of former detractors such as the 5 Star Movement, who continued to see him suspiciously about his time at Goldman.
The euro crisis took him to Frankfurt; the pandemic, to the Chigi Palace. During the covid, he has been retired for long periods at his home in Città della Pieve, in Umbria. From there he had been exchanging calls with President Mattarella for days; In recent months he has maintained contacts with other politicians, such as Giancarlo Giorgetti —inspirator of the centrist wing of the League—, Matteo Renzi or Gianni Letta, Silvio Berlusconi's court consultant. They say that Renzi put Italian politics in the shaker so that Draghi could not refuse, after a couple of weeks of drama, to assume the leadership of the Government.
In his first appearance he was excited and smiling, as comfortable as ever before the cameras. He has some very intense months ahead, in which he will have to assert his gravitas. Technocratic governments usually enjoy a positive initial retribution, but afterwards the parties look again for their own interests and things usually end up like the rosary of dawn. Draghi has an advantage over the last technocratic Executive: Mario Monti had to apply tough adjustments, while he has European money to spend. The funds, yes, have a trick: in return you have to make reforms, and that has been impossible in Italy for decades. It's Draghi's challenge. If he is successful, no one will be able to deny him the possibility of being President of the Republic, his great objective.

elpais.com