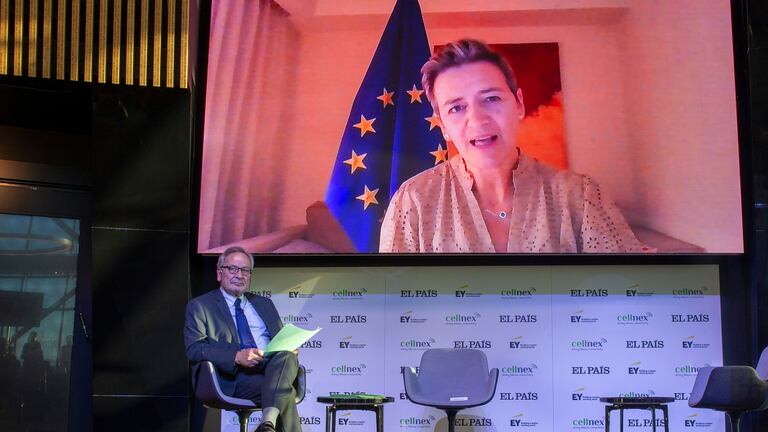 Google, Amazon, Facebook, Baidu, Alibaba, Huawei. The list is much longer. And they all have something in common: they are digital giants and none of them are European. Margrethe Vestager of Denmark, Vice President for the Digital Age and Commissioner for Competition at the European Commission, believes that it is not too late for Europe to regain lost ground. "We missed the first train of digitization, we did not arrive on time, there are no big digital businesses, and that is why we should strive to take the next one," he insisted on the cycle Future Europe, organized by EL PAÍS and sponsored by EY and Cellnex.
With the Twenty-seven relegated to the second digital divide with respect to the two superpowers of East and West, in the words of columnist and former Brussels correspondent Xavier Vidal-Folch, why trust that it will now be different? "We have learned from mistakes. The North American and Chinese giants have matured in a single market, without borders, and we have learned from that experience, we have a better market than we had, "Vestager responded in an interview conducted by videoconference.
In a subsequent conversation, Tobías Martínez, CEO of Cellnex, said that he was not so clear that Europe would be able to gain a foothold in the digital reign of the US and China. "They have a lot of advantage over us," he warned to questions from Alicia González, EL PAÍS 'International Economy correspondent. The director of the telecommunications infrastructure company argues that Europe has broken the barriers that make it a true single market for companies. "The difficulties you encounter to build a leading group in Europe are not the same as those encountered by a North American company in the United States, and the same in China, and it is because they think big, not in being the leaders of their country, but in leading markets, that's why we have such large companies in the world and none of them are European ".
For Federico Linares, president of EY Spain, we must not let threats overshadow the strengths of Europe and Spain. "We are not going to be Silicon Valley, but we still don't need to be, we have enviable connectivity at the broadband level, we have connectivity infrastructures in which a lot has been invested," he said. And it is committed to not leaving anyone behind on the digital train, and to creating a new three-way social contract between the State, companies and citizens to build a new governance.
Where Europe is at the global forefront is at work to regulate the imbalances in competition generated by these huge digital players. The open files accumulate in the office of Commissioner Vestager, the last against Amazon for using data from the companies that sell on its portal. "There are hundreds of thousands of vendors who do not have access to their own data and compete with someone who does have that data. That is not fair competition and we have to prevent it in the future, because if not, no emerging business is going to be able to scale ", warns the liberal leader.
The Commission prepares new legislative changes to limit the power of companies that have become gatekeepers, that is to say, the inevitable gateway to the Internet. "We have seen in many cases that they are not passionate about fair competition, that is why we need this regulation," he says about large technology companies.
The EU also marks the step in privacy and consumer rights in the digital labyrinth, two delicate points that Vestager does not take his eyes off of, to the point that, although everyone knows it for the fight against abuses of a dominant position , she would like to be remembered for helping to return control to the user. Or as she explains: "That you can choose with confidence if you want everyone to have their data or that no one has it, that technology is at your service and you have control. If I can contribute to that, I will be truly grateful. "
Calviño believes that Spain will grow in the fourth quarter
The day, under the title Innovation, technology and digitization: Future and digital Europe, also addressed the great instrument that the Twenty-seven have equipped themselves to not miss this second opportunity to get on the digital bandwagon: European funds. In an interview with the Vice President of the Spanish Government, Nadia Calviño, the director of EL PAÍS, Javier Moreno, recalled that 33% of this economic injection is going to go to digital transformation, and asked the Minister of Economy about the ability to Spain to carry out this huge amount of resources. "Spain is slow but safe," Calviño responded, citing the complexity of the territorial structure and the instruments for controlling funds as obstacles.
The vice president was optimistic that the veto of Poland and Hungary on disbursement will be saved, and said that the goal should be to execute 100% of European funds. And also start doing it as soon as possible. "The new instrument of recovery is countercyclical, we must boost economic growth now, not in 2025. Although structural reforms may take years, we need to start putting them in place immediately," he urged.
Despite the fact that numerous research services predict a fall in the Spanish economy in the fourth quarter due to the return of restrictions, Calviño keeps the Executive's prediction for the final stretch of the year unchanged: "For now, our central scenario is growth in the fourth quarter, "he said. Calviño believes that the economy has avoided the worst omens. "We identified four risks; the delay of the vaccine, an increase in geopolitical tensions, a structural impact of the pandemic that permanently destroyed more jobs and that we were not able to absorb European funds. And I think the news since then has been positive about those risks. "

elpais.com